Shouts, waves greet papal motorcade during a brief trip around Ellipse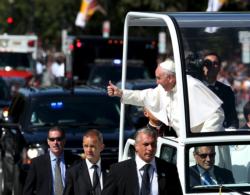 By Kurt Jensen Catholic News Service
WASHINGTON  — "Paaaaapaaaaa!"
Popes in popemobiles create, as they always do, a sort of undulating ecstasy in the faithful who have traveled to see them.
It was no different for Pope Francis as his heavily guarded Jeep Wrangler made a brief trip around the Ellipse under a sun-dappled sky Sept. 23.
There were shouts, waves and a solid forest of arms holding cellphones high along two blocks of Constitution Avenue as thousands sought to get the pope to look in their direction.
"Amazing! He gave us a blessing!" said Honduran-born Matilde Alvarado of Falls Church, Virginia. Francis was the third pope she'd seen in person.
The high security — uniformed officers from several agencies, bomb-sniffing dogs, Homeland Security and FBI agents, fire trucks and ambulances — bothered her a bit, though.
She thought the show of force got in the way of Francis' determination to present a pastoral image. "It's a little bit too much, you know? Too much. I don't think he liked that."
Sophia Cruz, a persistent 5-year-old on Constitution Avenue, was allowed to present the pope something after he gestured in her direction. She gave him a handwritten letter, for which she earned a hug.
Pope Francis also kissed an infant boy handed to him by plainclothes officers.
Spectators began arriving at 4 a.m. (EDT) when gates to the secured area opened. Most, though, arrived by mid-morning and had only a few hours to wait before the "parade" rolled by shortly after 11 a.m.
What to do during the hours of expectation? Some brought card games. Many women prayed the rosary. Others swapped stories of other popes they'd seen and chatted with police.
Protesters were in short supply. Two of them — burly men holding placards proclaiming that both the pope and President Barack Obama were the Antichrist making secret plots — got more than they bargained for when they began shouting, "Turn away from your false religion!"
Police wouldn't intervene in a free-speech matter that had not escalated beyond the verbal stage. So as if on cue, several Latinas stood, turned toward the men, held their rosaries aloft, and began singing, "Ave, ave, ave Maria, ave, ave, ave Maria."
The protesters were shortly on their way down the sidewalk. "You're like evil spirits!" one woman shouted as they departed.
Chilean-born Mariajose Ovalle of Alexandria, Virginia, who was there with her 6-year-old son, Matias, said seeing popes in person was a vital emotional part of living her faith. She saw Pope Benedict XVI in London, but her most memorable sight was St. John Paul II at his last World Youth Day, in Toronto in July 2002.
Even at a great distance, "you could feel his presence," she recalled. "He was frail, but he still did the tour (around Downsview Park). I was overwhelmed. I had tears, but I wasn't sad."
Alvarado, who had seen Pope Benedict at The Catholic University of America in 2008, agreed on the need to make a personal connection. "I was able to have eye contact with him. I said, 'I love you,' and he looked at me."
For Francis, Alvarado hoped "to just look, listen and feel the sights of wonders of participating in the welcome of Pope Francis. The emotions of being with all who are out to welcome him, and the joy, you know, of our salvation, which is Christ."
Alvarado, Ovalle and Alvarado's friends Andrea and John Finch, rather than risk the uncertainties of a very crowded Metrorail subway train, took a water taxi up the Potomac from Alexandria, arriving shortly after 8 a.m.
Andrea, from Peru, was seeing her first pope in person. John, as a child, had seen Pope Paul VI at a Vatican audience.
The big difference this time: "I can see what's going on!"
Posted September 23, 2015