Shreveport Martyrs: The surest Path to Heaven


Just before Christmas, I gratefully received the book Shreveport Martyrs of 1873: The Surest Path to Heaven, which recalls the Yellow Fever epidemic that devastated Shreveport, LA, wiping out one-fourth of its population. As the Daily Shreveport Times stated: "Whole families were swept away, and commercial firms, partners and clerks, were literally blotted out of existence."
Entering Shreveport's suffering, five heroic priests from Brittany, France, gave their lives to ensure the faithful had access to the sacraments. These Shreveport Martyrs (shreveportmartyrs.org) are not yet well-known or formally beatified, but their lives and deaths in less than a month in 1873 are models of sanctity as we struggle through this pandemic.
Shreveport was originally in the Diocese of Natchitoches, which comprised most of Louisiana at that time, and the priests from Brittany who attended to its French settlers. When the epidemic began, Fathers Jean Pierre and Isidore Quémerais attended to the people's sacramental needs, working with town physicians who responded to the epidemic.
When Father Quémerais became ill, Father Pierre continued his ministry, but sensed his own illness and sought to ensure the faithfuls' access to the sacraments. His request for another priest via telegram to Alexandria, LA, brought Father Jean Marie Biler, who remarked upon his arrival, "My God, I have entered the city of the dead." He administered the last sacraments to Father Quémerais and Father Pierre, before they soon succumbed to the fever on Sept. 15 and 16 respectively.
Strengthened by the Blessed Sacrament, Father Biler provided the sacraments to the people until he also began to weaken. Mother Mary Hyacinth, a French nun, requested another priest through a telegram sent to Bishop Auguste Marie Martin, but received by Father Louis Gergaud in Monroe, LA. He told the people there to let the bishop know "that I go to my death."
With apostolic boldness, he courageously set off. Bolstered by a strong sense of duty, Father Gergaud overcame numerous temptations to turn back, instead continuing forth to serve and comfort the sick and, in imitation of Christ, to rob death of its terror. Surrounded by death's stench, he was surprised by how many lay volunteers assisted the sick. Recognizing him as a priest, a woman brought him to Father Biler, in slightly better condition than Father Gergaud imagined. They were able to talk about spiritual things and their former hopes and dreams for missionary work. How different was this atmosphere from their great aspirations!
Ravaged by the fever, Father Biler was hardly recognizable when he died on Sept. 26, but Father Gergaud labored on until he also contracted the disease.
Father François LeVézouët was next to volunteer, saying this was "the surest and shortest path to heaven." He provided the last sacraments before Father Gergaud's death on Oct. 2, and ministered to the people until he too fell ill. He requested two priests from the Archbishop of New Orleans, but a Jesuit priest and assistant were sent. They attended to the people and Father LeVézouët, who died Oct. 8.
Upon learning of these events, Bishop Martin wrote: "The hand of God has struck me and with these priests, pride of the priesthood, the crown of my old age has fallen. Inscrutable, truly, are the ways of the Lord. I adore them and I accept them with my whole soul, and I can only say, Happy is the diocese that could lose such men, happy is the earth watered by their sweat and sanctified by their death. Martyrs to charity or martyrs to persecution, in their venerated tombs will grow the deepest roots of the Holy Church of the One whose death was our life."
Eventually, the epidemic subsided, with the People of God never deprived of the sacraments, thanks to the ultimate dedication of these five priest martyrs from Brittany who always kept Christ the priest among them. During this pandemic, may we draw inspiration from their courageous and heroic charity, rediscovering our own missionary impulse and remembering that God never abandons us!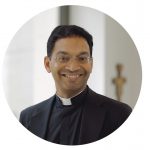 Father Earl K. Fernandes is the pastor of St. Ignatius of Loyola Church in Cincinnati and holds a doctorate in moral theology from the Alphonsian Academy in Rome.
This article appeared in the March 2022 edition of The Catholic Telegraph Magazine. For your complimentary subscription, click here.