Sister Rebecca Spires: 49 Years of Sharing God's Love in the Amazon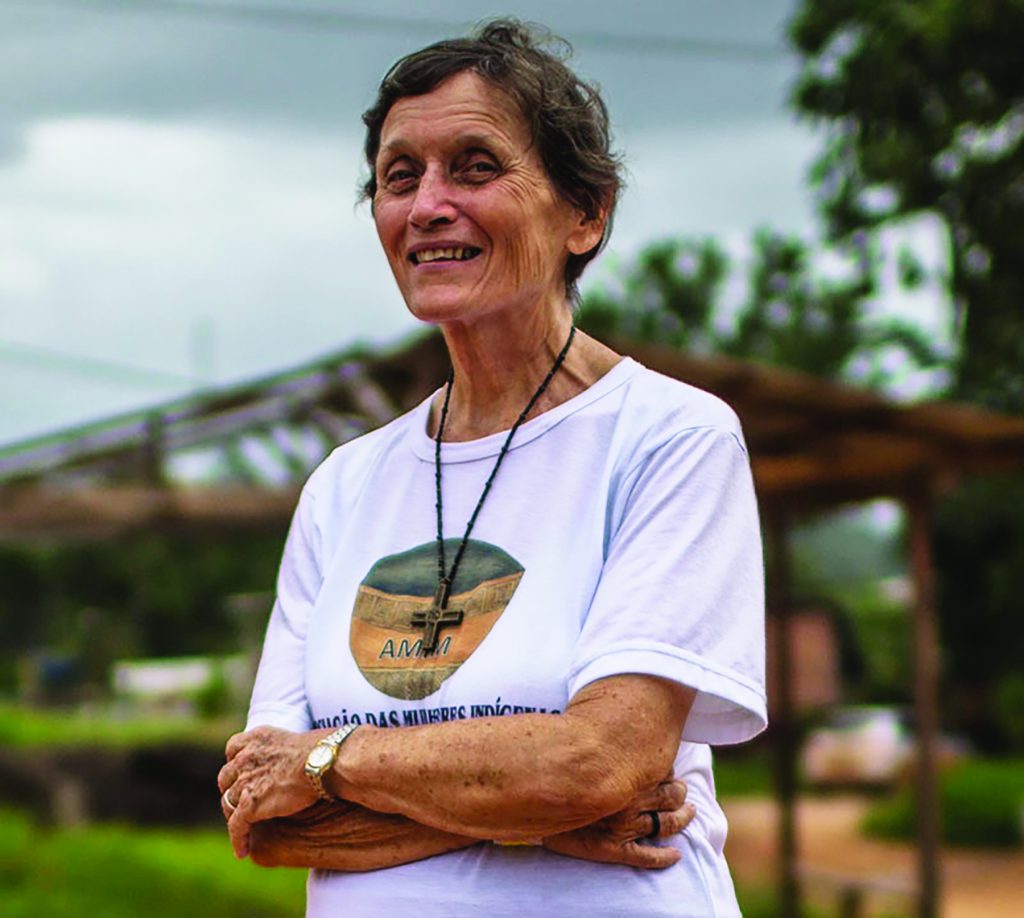 By Rebecca Sontag
On the northern rim of the Amazon Rainforest flows a massive and wide river with brown and muddied waters, the Oyapock. On one side of the river is the Brazilian town of Oiapoque, and on the other side is French Guiana. The locals just call it France. And, as French Guiana is an overseas region of France, the locals are correct.
Flat skiffs with outboard motors ferry people across the river from Oiapoque in Brazil over to St. George on the French side for an assortment of reasons. But at night, when the boats make the trek in complete darkness, they carry men headed to French Guyana's illegal gold mines to work as miners. These men seeking illegal employment are extremely poor. They are desperate. And they are exploited.
Born in Columbus, OH, Sister Rebecca Spires of the Sisters of Notre Dame DeNamur has lived more than half her life in northern Brazil. In those 49 years, she has helped open schools, taught sustainable farming, prepared people for the sacraments, opened schools and even transcribed an indigenous language into written form. All of her good works have been to one end.
Sister Rebecca wants the people to know that, "God is good all the time and in all places."
Thousands have migrated to Oiapoque from other parts of Brazil looking for a better life. Men come looking for work, and women follow, hoping for husbands with well-paying jobs. Instead, they are met with human trafficking, exploitation and abuse.
"But all those we're seeing, they dream of having a job, that's all. They dream of seeing their children grow up and dream of having enough to eat and dream of having a roof. We have to be there for these among us. How will they know God's goodness if we don't show it to them?"said Sister Rebecca Spires.
Showing God's goodness to the people in Oiapoque takes many forms. Sister Rebecca and a small group composed of other sisters and lay volunteers have founded the Missao nas Fronteiras or "Mission on the Border," which acts as a welcome house for those in need. Catering primarily, but not exclusively, to women and children, the mission provides a snack, a place to rest and maybe an available hammock for a night or two. But the most valuable thing they offer is advice.
They also work with the schools, not just to provide an education for the girls, but to disrupt the human trafficking systems at work. Children as young as 14 try to recruit other children for crime syndicates running prostitution rings. By working with schools, law enforcement and other agencies, crime gets reported and victims are, at the very least, acknowledged.
When the Sisters of Notre Dame deNamur first arrived in Brazil, they were confronted with a common saying: "If God Wills It, It Will Be Done." Sister Rebecca Spires has spent almost 50 years in Brazil dispelling this myth. God does not will the girls of Oiapoque to be raped. God does not will the destruction of the rainforest for the profit of a few rich land barons, nor does He will men heading off to the mines, never to be heard from again. God does not will extreme poverty that destroys families and cuts lives short.
In 2005, Sister Rebecca's dear friend and mission partner, Sister Dorothy Stang, was assassinated while the two were working together in Brazil trying to destroy that myth. God did not will Sr. Dorothy's assassin to fire five more shots, emptying his revolver into the already-dead woman's back.
God willed for Sister Rebecca to stay and continue to advocate for the people of Brazil after this heartbreaking loss. God willed her to continue her courageous and loving work so that she can share God's goodness with the poorest of the poor. Proclaiming to all that God's goodness extends to every person in every place no matter how poor or remote, that is God's will.