Sisters of Notre Dame de Namur celebrate 175 years of US service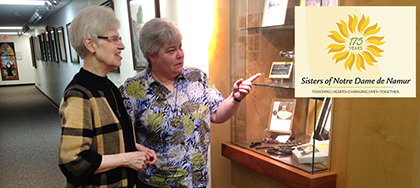 By Walt Schaefer
For The Catholic Telegraph
In 1804, Julie Billiart had a meeting with the Bishop of Amiens, France, when she told him of her vision to create a religious order of women educators who would serve worldwide.
The bishop and the sister were not in agreement. The bishop told Sister Julie she was a proud woman and the enterprise she envisioned would never last.
St. Julie was canonized in 1969. Today, the Sisters of Notre Dame de Namur, the group she founded, serve on five continents — North America, South America, Europe, Asia and Africa.
"Our sisters have literally gone all over the world…caring about people," said Sister Rita Sturwold, co-director of the United States Office of Sponsored Ministries for the Sisters of Notre Dame de Namur. She resides and works from the order's provincial motherhouse in Reading.
This year the sisters are celebrating a milestone — the sisters' 175th anniversary of service in the United States – service that began when a group of eight sisters arrived in the Queen City from Belgium at the behest of then-Bishop John Baptist Purcell, who wanted to create a strong Catholic school system in Cincinnati and, eventually, across the United States. Their arrival took place on Halloween in 1840.
Within a few years, the Ohio sisters had started 17 Notre Dame schools in and near Cincinnati; eight in Dayton, five in Columbus. They quickly expanded to other areas of the state and then ventured into Illinois, Massachusetts and along the east coast.
Today, there are about 800 Notre Dame sisters in the United States with another 400 with a significant presence in Africa  — Congo, South Africa, Zimbabwe, Kenya and Nigeria — and in South America —Brazil and Peru. There are some 50 native Japanese sisters in service.
"Unfortunately, we are older than we were and we are not in classrooms as we were. We are doing a lot of things in direct service to the poor," Sister Rita said. Still, locally, there are Notre Dame nuns serving at Corryville Catholic in Cincinnati's inner city and at Mount Notre Dame High School in Reading — still operated by the order. The sisters founded Summit Country Day School in Cincinnati and still maintain a close connection there.
But, Sister Rita explained, Notre Dame sisters have immersed themselves locally in health care, human trafficking issues, food for the poor, job training, legal assistance for the poor, chaplaincy, spiritual direction, liturgy and more.
"After Vatican II," Sister Rita explained, "there was a major push to serve the poor. It was a major emphasis of our church to serve the materially poor, so we had any number of sisters to who left formal education because they felt called to serve the … poor."
Other efforts have focused on reacquainting people with the Sisters of Notre Dame de Namur who know them only primarily as classroom, teachers and school administrators and introduce them the many other ministries being served today and to engage people through special presentations and Masses — many being offered during this anniversary year.
There are about 200 sisters in the Ohio Province, serving 14 states. Sister Carol Lichtenberg, a native Cincinnatian, is the current provincial.
"As we pause to note the passage of time," she said, "we are quite proud of our educational legacy across the United States. When we delve into the stories of courage of those first missionaries, we see that what they were able to do is amazing. They were educators who developed curriculum to meet the needs of a whole new setting and entrepreneurs who knew how to raise the money to build large buildings for academies in a number of different cities. We are deeply grateful to the Sisters before us who carried on the educational mission in ordinary and extraordinary places.
"We continue a deeply rooted commitment to education but now in many different forms," Sister Carol said. "There's the sister who runs a half-way house for women and teaches them the dignity of sitting down to dinner at a table where conversation and respect are exchanged; the sister who began in Brazil with an indigenous group and helped them develop a written language. Now there are more than 25 small schools among these people and a second generation is coming back to staff them. So many ways to carry on St Julie's "greatest work on earth."
"The future will be no different in its essence. Sisters of Notre Dame de Namur will still be called and committed to education in all its forms," she added. "We will still be called to stand with those who are poor, to work for justice and peace and to make known the goodness of God. It is quite clear to all that religious orders will be smaller. The mission continues regardless of circumstances."
It takes little time to discover the love the sisters have for their order and their vocations:
Sister Rosemary Wack said, "I entered the congregation in 1947. I look back at that moment and thank the good God for all the years that followed…years of teaching elementary school, serving on our General Council and being in Rome during Vatican II, years in Africa – Kenya and Zimbabwe – until I returned home. Our charism is to have "hearts as wide as the world," — this world that Pope Francis lovingly calls "our common home."  Do I feel like celebrating this 175th anniversary with the people of God?  Yes!"
Sister Ruth Ellen Evers added, "Looking back over these years, I loved teaching and enjoyed every school to which I was assigned. I began teaching first grade at Our Lady of the Sacred of Heart in Reading, Ohio.  After six years, three other Sisters and I were sent to open Most Holy Trinity Parish School in Phoenix, Ariz.  What an adventure. After many years of teaching, the Provincial asked what I was going to do after teaching. Since I hadn't thought about it, she asked me to attend a school of hair design so that I could cut and style the hair of our retired sisters. Having been a Sister for 72 years, and nearing my 90th birthday, I am so grateful for my sisters in community, for my family and friends, for the opportunities to grow spiritually and for every assignment I've had."
This story originally appeared in the November 2015 print edition of The Catholic Telegraph.