Mass honors religious jubilarians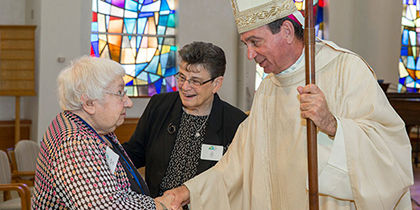 Staff Report
Sisters, brothers and priests from religious communities throughout the archdiocese who are celebrating jubilees in 2015 came together for an annual Mass in their honor at Mount Notre Dame in Cincinnati Oct. 10. 
Nov. 1 through Nov. 7 is National Vocations Awareness month
Celebrated by Archbishop Dennis M. Schnurr, the Mass recognized the faith of the women and men religious who have dedicated their lives to serving God and God's people for 25, 50, 60, 70 or 75 years.
Each year The Catholic Telegraph honors the religious men and women celebrating anniversaries of their call to religious life. Additional jubilarians will be posted in the coming months.
Jubilarians part 1 (2015)
During the liturgy, the jubilarians renewed their commitment to their baptismal call. Ursuline (Brown County) Lucia Castellini received scrolls on behalf of this year's jubilarians (105 total) from Archbishop Dennis M. Schnurr thanking them for their years of service.
This story originally appeared in the vocations section of the November 2015 print edition of The Catholic Telegraph.