Marriage Milestones, Meet three of the couples honored at Wedding Jubilee Masses
Two Masses for couples marking 50 years of marriage were celebrated Aug. 12. Bishop Joseph R. presided at the annual Golden Jubilee liturgy at the Cathedral of St. Peter in Chains, with Archbishop Dennis M. Schnurr serving as celebrant at Our Lady of the Immaculate Conception Parish in Dayton. Married couples celebrating a significant wedding anniversary (25, 40, 50, 60, 65, 70, 75) in 2017 were invited to request a congratulatory certificate from Archbishop Schnurr. These certificates were distributed at parishes in late July or at another time chosen by the parish.
"The Catholic Telegraph" spoke with three couples whose enduring examples of faith, commitment, sacrifice and love exemplify the sacrament of marriage.
Gerry and Gert Patterson
Fifty years ago, limited resources necessitated a small wedding for Gerry and Gert Patterson at St. Louis Church in downtown Cincinnati, followed by a breakfast at relative's home, and no honeymoon. In contrast, the couple marked their golden jubilee with a huge party and family trip to Myrtle Beach.
The humble beginnings of their union led to decades of love, along with eight children and 14 grandchildren (Gert is also quick to mention their children and grandchildren in heaven). They met when Gerry was 23 and Gert was 20. "I liked his smile and his sense of humor," Gert recalled. "I still do."
Gerry wasn't Catholic at the time, so as their relationship progressed, discussions turned to matters of faith and family. "Faith was a big thing for us," Gerry said, so he attended instruction at St. Louis, accompanied by Gert, and was received into the Catholic church.
Now members of St. Gertrude Parish in Madeira, the Pattersons attest to God's presence throughout their married life. "Like anybody, we've had tough times in our marriage, but with God's grace and the gift of the sacrament, we've had the strength to work things out," Gert said. "It's too easy to say 'I'm done' and walk away. You have to hang in there and remember the blessings."
She believes another key to a successful marriage is being willing to apologize. "When we dated, I remember hearing 'Love is never having to say you're sorry.' That's baloney. If you do something wrong, say you're sorry."
"Marriage isn't a 50/50 thing," Gerry added. "You have to give 100 hundred percent. You both have to shoot for that. You have to love without expecting anything in return. That's what Jesus did."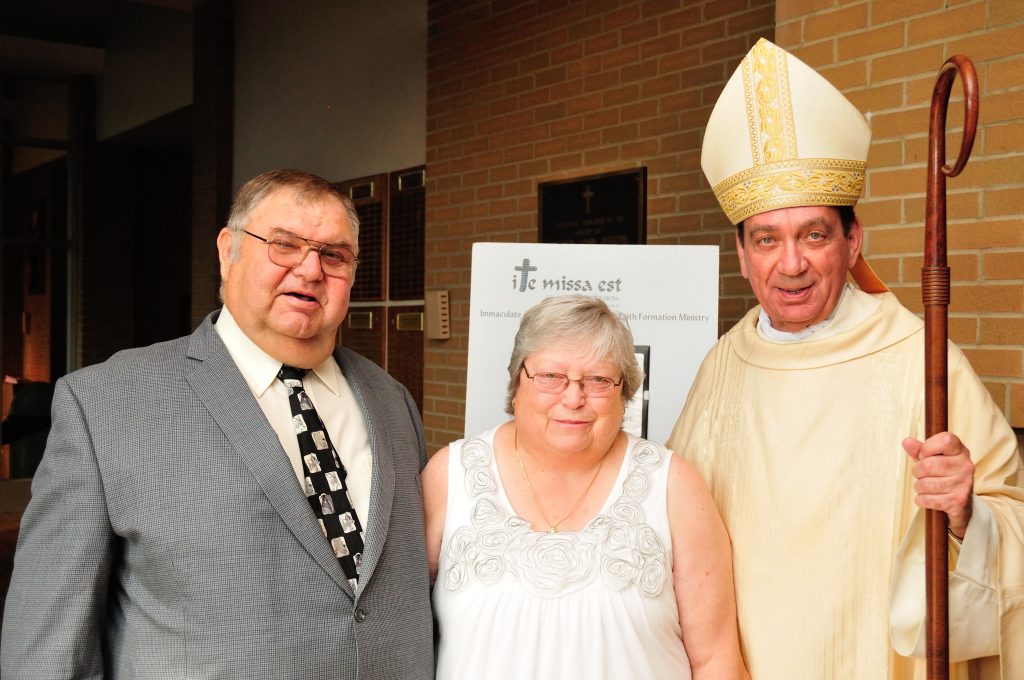 Michael and Lu Zecchini
The Zecchinis describe their marriage as a "match made by God," one that has spanned 50 years and is still going strong. Michael and Lu met as children in their hometown of Jellico, Tenn. They began dating as sophomores in high school and were married at 19. Lu said even as a little girl she had the sense that Michael would one day be her husband. "I don't know how or why. I just knew."
Although Michael came from a devout Catholic family, Lu was raised Southern Baptist, so they first married in her church. The couple eventually settled in the Dayton area after Michael secured employment at General Motors. When Lu converted to Catholicism, they were married at St. Peter Parish in Huber Heights, where they also renewed their vows this past May. Michael and Lu have two children and three grandchildren. Over the years, they have been active members of St. Peter, including coordinating the parish festival.
Reflecting on their relationship, Michael said, "It feels like God brought us together and has never left. We look back and wonder how we could have gotten through some things. There's no way we could have without God."
Lu had the following advice for young couples on the journey to marriage: "Befriend each other and get to know each other. Don't enter into marriage with the attitude that you'll just give up if things don't work out. Don't make divorce an option."
"It's important to spend time together," Michael added. "We know couples who only see each other for a few hours a day. We've always volunteered together. Lu can't get rid of me," he said with a grin.
Approximately 150 family members and friends joined the Zecchinis for a celebration following the golden jubilee Mass. Lu admitted to getting "choked up" seeing so many people gathered in their honor.
"We're not the most perfect couple in the world, but we've made it this far, with God's help," Michael said.
"And, we hope we make it a lot longer," added Lu.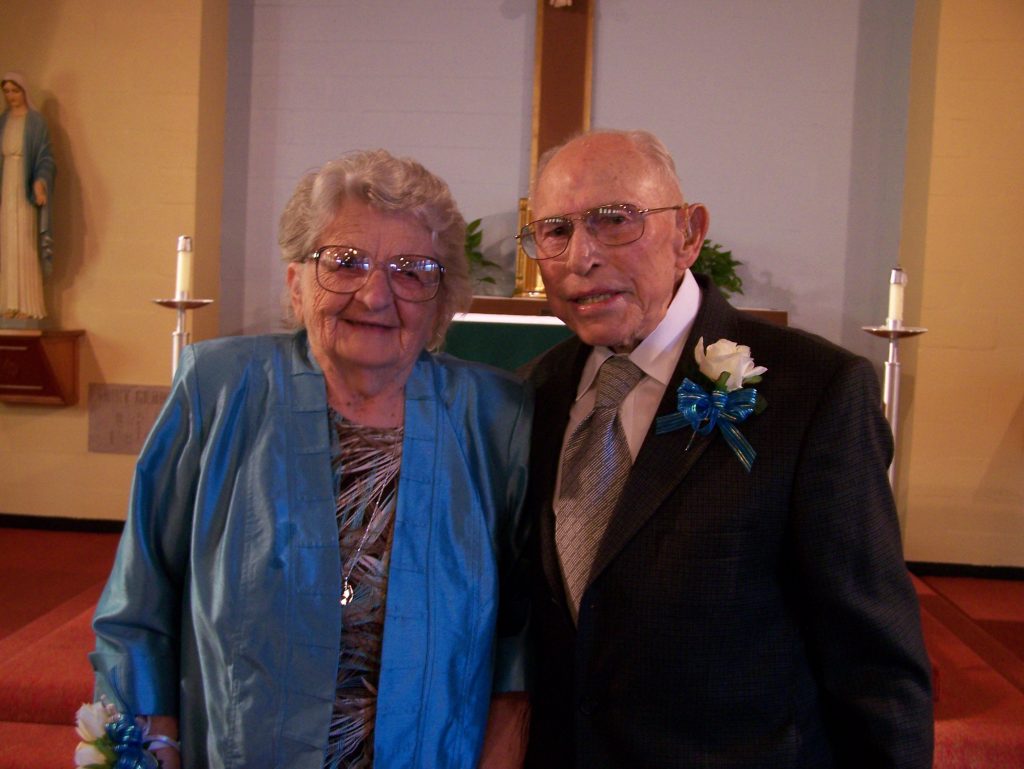 Charles and Rita Hawkins
As a child, Rita Hawkins recalls riding the same school bus as a little boy named Charles, but she never realized it would lead to long, loving union of 70 years and counting.
The couple was formally introduced by friends at barn dance in 1946, and had their first date the following week. They were married on Sept. 27, 1947, at St. Peter Church in New Richmond. The Hawkins settled on a farm in Hamersville, where they raised seven children.
Raised in the Methodist faith, Charles converted to Catholicism in 1962, due to the influence of Rita, their children and Father Paul Kappes from Saint Mary Church in Bethel.
Now Charles, 96, and, Rita, 92, are always surrounded by family said their daughter, Lois Hawkins Richendollar. "They cherish their time with their children, grandchildren and great grandchildren," she said. "Their love and the grace of God gave them strength to work hard, raise their children and take care of one another."
"We know every day is a blessing," said the Hawkins. "Life isn't easy, but it takes both of us to work hard. We praise and thank God daily for our wonderful marriage. Thanks to The Catholic Telegraph for giving us the opportunity to share our thoughts. We hope this helps all tyoung couples to reach the milestone of 70 years of marriage."
Scenes from the 2017 Wedding Jubilee Masses