Sisters of Notre Dame de Namur recognize community leaders
October 29, 2012
Two Cincinnati community leaders were recognized recently by the Sisters of Notre Dame de Namur for their commitment and service to others in the city and around the world.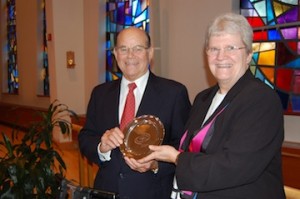 The awards were presented by Sister Carol Lichtenberg, provincial leader of the Sisters of Notre Dame, and provincial leadership team members Sisters Judi Clemens and Collette Didier. They made the two presentations during the Sisters' annual "Friends" dinner earlier this month.
Mike Gable, director of the Mission Office for the Archdiocese of Cincinnati, received the Sisters of Notre Dame de Namur "Hearts as Wide as the World" award, which recognizes extraordinary support of Sisters' international ministries.  This award was presented by Sister Judi Clemens, who served as a missionary in Brazil before taking on her current leadership position.
Sister Judy said, "Mike leads the archdiocese mission office the way he lives his life — with the heart of a missionary and the mind of a theologian.  He helps this sprawling diocese stay connected with our many missionaries, providing spiritual and financial support, all while developing mission awareness in our parishes and schools. He understands and shares our baptismal commitment to act for justice and solidarity for all, especially when this takes us away from our homes and into unfamiliar places around the world, where we serve not out of duty but love."
Sister Colette Didier presented the second award of the evening to Tom Klinedinst, Owner of Klinedinst Enterprises in Cincinnati.  He received the 2012 Sisters of Notre Dame "Educating for Life Award" in recognition of his tireless work on behalf of the educational mission of the Sisters of Notre Dame de Namur.
As Sister Colette presented the award, she explained its significance. "Nine years ago, when our congregation marked its 200th anniversary, we began formally thanking the many dedicated women and men who share our commitment to education and to the educational principles of our foundress St. Julie Billiart.  We established this award, which takes its name from the words of St. Julie who said: 'teach the children what they need to know for life.'   That belief is woven into the very fabric of our mission and in Tom's makeup as well."
Klinedinst is a long-term member of the Sisters' Development Advisory Board.  Nearly 10 years ago he directed the establishment of the congregation's "Partners in Action" fundraising program, which he continues to chair today. " Quite frankly," Sister Colette said, "Tom is the glue that holds it all together for us."
The annual "Friends" dinner is held at the Sisters convent home in Cincinnati to thank those who generously support the work of the Sisters.  The Sisters of Notre Dame de Namur do not receive funding from any diocese where they live or work and are entirely responsible for their retirement, health, and long-term care needs. The Ohio province, which is headquartered in Cincinnati, is home to 240 Sisters who have ministries in 11 states, Europe, Africa, South American and Central America.