Cristo Rey founder celebrates with area high school students
October 29, 2012
By Steve Trosley
"It goes without saying," Jesuit Father John Foley said of the pride he felt upon his first visit to DePaul Cristo Rey High School in Cincinnati, his first such visit since its founding.
Father Foley concelebrated the school's Founders' Day Mass, Oct. 1, with Archbishop Dennis M. Schnurr.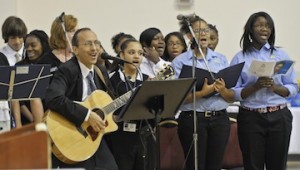 Father Foley was the originator of the concept that now serves as the foundation for the Cristo Rey network of schools across the United States.
During his homily, Father Foley told the students, staff and guests, "We believe in you."
"You are part of a network that has grown to 25 high schools and 7,400 students," he told them. "Our vigorous academic program will help you get into college. The work-study program ensure you will have something to give when you take a job in the future."
Father Foley said the amazing thing about Cristo Rey was that all students "work to pay for their education."
Archbishop Schnurr told the students he was proud that there was a team of Cristo Rey students working at the archdiocesan offices. He told the students that when he organized the World Youth Day for Pope John Paul II in Denver, he was often contradicted when he told young people they were the church of the future. "They quickly corrected me. They don't want to be put on the shelf.
"You have great talents right now and you can offer your talents to the church now," he said. "You can make a tremendous difference."
Following the Mass, there was a doughnut reception. As students went to get doughnuts, others picked up sack lunches that would accompany them to their jobs at one of the almost 50 corporations and non-profit organizations that employ them around Hamilton County.
Franciscan Sister Jeanne Bessette, president of the high school,  led the induction of a new class for the year. She explained that the school currently serves ninth and 10th graders but will be a four-year institution by 2014. Housed at a former Lutheran church complex at 1133 Clifton Hills Ave., the school offers a unique program.
Sixth, seventh and eighth grade students and parents are invited to Discover DePaul Cristo Rey High School at an open house on Saturday, Oct. 20, 9 a.m.-noon. DPCR is located at 1133 Clifton Hills Avenue at Central Parkway, one block south of Cincinnati State Technical and Community College. All families who visit the open house can enter a drawing to win an iPad.
This open house will offer students and families the opportunity to learn more about DePaul Cristo Rey through campus tours and by talking with teachers and current students. Teachers will be in their classrooms to explain their curriculum and demonstrate how they use the school's Tablet PC computer program. All DPCR students have tablet PCs and at the open house prospective students can try these learning tools for themselves.
Students and families can also talk with staff from DPCR's unique Corporate Work Study Program (CWSP) and learn where current students are working and the kinds of jobs they do. All DPCR students participate in the CWSP, working five days a month in entry-level office jobs around Greater Cincinnati. These jobs offer students real-life work experience, valuable career connections and enable them to earn a significant portion of the cost of their education.
DePaul Cristo Rey is an affordable, Catholic, college preparatory high school for underserved students in Greater Cincinnati and Northern Kentucky. It is sponsored by the Sisters of Charity of Cincinnati. Most of the students qualify for the Federal Free or Reduced Lunch Program. Family income for eligible Greater Cincinnati students must fall within 75 percent of the median family income for Hamilton County.
DePaul Cristo Rey is now accepting applications for the class of 2017; for more information on the school or Open House, call 513-861-0600, or visit www.depaulcri storey.org.