Spring Sports Report: Alter, Elder brought home volleyball titles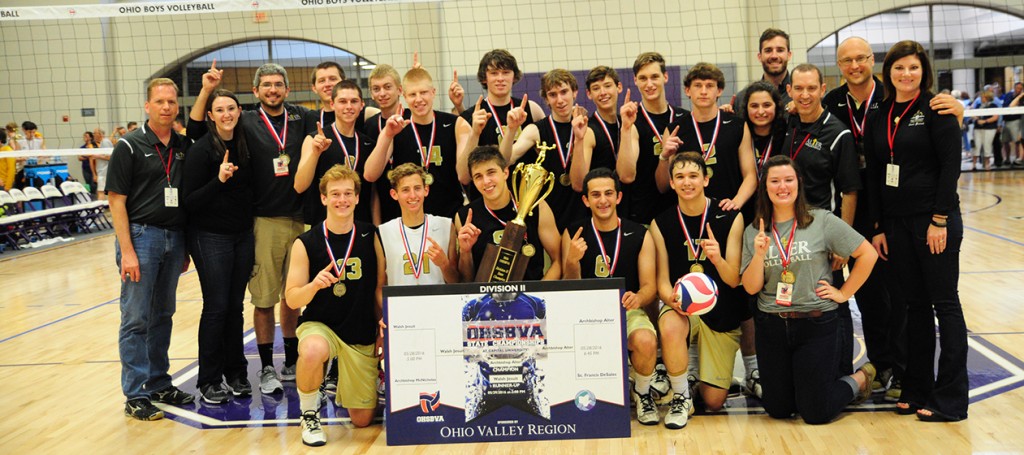 The following is a post-season recap of spring sports results for Catholic high schools in the Archdiocese of Cincinnati.
A dynasty is underway.
Archbishop Alter High School won its third consecutive state title May 28 at the Ohio High School Boys Volleyball Association State Championships at Capital University. Alter won by dispatching Walsh Jesuit 25-23, 25-20, 25-22.
Elder High School claimed the Division I championship the same day with a 25-18, 25-18, 25-23 victory over Archbishop Moeller. The championship is Elder's sixth in boys volleyball and first since 2014.
Baseball
Badin falls in state championship
With one out and the bases loaded in the bottom of the eighth inning, Defiance junior Austin Taylor singled to centerfield to score senior Shay Smiddy, earning a 3-2, eight inning victory for the Bulldogs against Hamilton Badin and its second-straight state championship in the 2016 OHSAA Division II baseball state final at Huntington Park in Columbus on June 4.
Badin was led by seniors Garrett Hogan and Mitchell Raley. Hogan went two-for-three and Raley went one-for-two while also accounting for both of Badin's RBIs. Badin finished the season 22-11.
La Salle loses in state title contest
La Salle High School reached the Division I state championship contest June 4 in Columbus, but fell 2-1 to Pickerington North.
La Salle was led on the mound by junior Micah Allen and senior Jacob Kaiser. Allen went six innings and surrendered just five hits and two runs while also adding a strikeout and one RBI offensively. Kaiser pitched the seventh and allowed no hits or walks. Offensively, the Lancers finished with five hits but mustered just one run.
Boys Tennis
Badin's Noah Connaughton finished fourth in Boys Division II Tennis, falling 6-1, 6-3 in the third place contest.
Seniors Jared Hochwalt and Calvin Spanbauer of Summit Country Day finished fourth in Division II doubles, losing in the third place game 6-4, 6-0.
Track and Field
Athletes around the archdiocese competed in the OHSAA Track and Field Tournament June 3 and 4 at Jesse Owens Memorial Stadium in Columbus. Below is a divisional breakdown of Catholic high school athletes from the Archdiocese of Cincinnati who placed in their events.
Division I
Elder's Robby Oswald finished third in the pole vault, clearing 16 feet in the final.
Division II
The Alter girls finished as Division II state runner ups, tied in second place with Steubenville with 25 team points.
Alter's girls' 4×800 relay team finished sixth with a time of 9:27.27.
Alter senior Abby Nichols won the girls 1600 meter run in a time of 4:55.30, while teammate Perri Bockrath finished seventh in the same event at 5:05.78. Nichols also won the 3200 meter run in a time of 10:55.99.
In the girls 4×400 relay, Carroll's all-senior team of Christian Kellet, Julia Barbera, Haley Sabo and Hannah Ritter placed fifth with a time of 4:01.13.
Roger Bacon's Sam Johnstone took sixth in the boys 1600 meter run in a time of 4:22.52
Fenwick senior Sean Sherman took second in the boys shot put with a distance of 60-01.25, just one inch shy of first place.
Division III
Purcell Marian's team of Nylan Mosley, Qua'monte Richardson, Jamel Howard and Marquize Johnson claimed third place in the 4×200 meter relay.
Underwater Hockey
The Roger Bacon varsity underwater hockey team finished seventh in the "B" division of the 2016 USA Underwater Hockey National Championships June 12.
Sports-related news from Catholic high schools in the archdiocese may be submitted HERE.