St. Anthony Quad Beer to Debut Fat Tuesday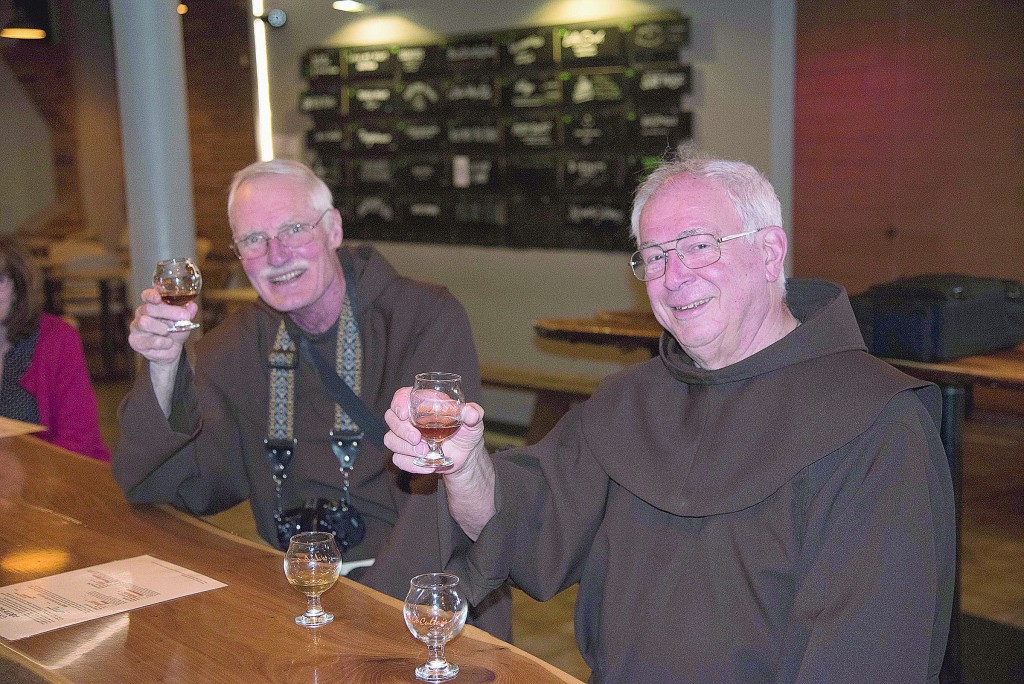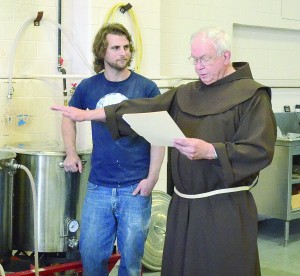 Northside brewers brew wild yeast beer in former church, now pub
By Gail Finke
The long history of monks, friars, and beer will have a new incarnation this Lent. Urban Artifact, a Northside microbrewery that specializes in sour beers and beers brewed from wild yeast, debuts its new St. Anthony beer with a beer blessing and party on Fat Tuesday.
Made from yeast collected on the grounds of the National Shrine of St. Anthony in Mt. Airy, the ale is a Belgian Quadrupel, or "quad," style beer high in alcohol content (in this case, about 10%) and rich in flavor.
Like bock beer, it's a style that monks would make for seasons of fasting, said Scotty Hunter, who directs events at the business. "But bock has a clean, malt-forward taste. Belgian beers have a yeasty character."
Located in what was once St. Patrick church, Urban Artifact is a modern-style pub that offers live entertainment seven nights a week in the old undercroft, and event space in the former church. In addition to its own beers, the brew-pub has a full bar that features spirits and other craft beer, as well as craft sodas and other non-alcoholic drinks. The new home of the famed Blue Wisp Jazz Band, which plays every Wednesday night, the business attracts many students on weekdays and families on weekends, Hunter said.
"We have something for everyone," he explained. "All our shows are all-ages if accompanied by an adult. We have a lot of students, especially for jazz. We wanted to be more family friendly than breweries in general, and our beers can be a little out there – so we have 12 beers on tap."
Sour beers are a current trend in craft beers, but not to every taste. Added acid "balances the flavors of yeast and malt," Hunter said, making them more adventurous choices for beer aficionados. But Urban Artifact does more than experiment with flavors and commercial yeasts. Hoping to create truly local beers, the brewers catch wild yeasts in collection jars placed in undisturbed areas such as their own property, Spring Grove Cemetery, and the Shrine.
The yeast is then allowed to ferment for several weeks, and the results are usually disastrous. "Eighty to 90 percent of them get pitched," Hunter said. "You can usually tell just by smelling it if it's going to work. The most common smell is like an electrical fire – you wouldn't think an organic process could smell like that, but it does."
Only half of what passes the initial muster goes on to make even a passable beer – and unlike beer made from commercial yeast, which is fast-acting, beer made from wild yeast initially takes nine months to two years to ferment in oak barrels. St. Anthony is one of only a handful of beers Urban Artifact's brewers have taken from collection to bottling, and they expect it will be welcomed by enough area beer fans to brew again and again.
Franciscan Father Carl Langenderfer is the St. Anthony Shrine's guardian – and, now, official beer taster. "We're always looking for ways to involve a younger audience in the Shrine," he said, "and there's a lot going on with craft beers in Cincinnati. I last tasted it about six weeks ago, and it wasn't finished yet… but it tasted like beer!"
The brewers had Father Langenderfer and fellow friar Father Frank Jasper in to the brewery to bless the mash, and will have them bless the finished beer before serving it at the release party. The friars were glad to oblige. Urban Artifact wanted to try making the beer as a project that would promote the Shrine as a part of the community and aid it monetarily, Father Langenderfer said. A portion of each bottle sold will benefit the Shrine, but the real value to the Franciscans will be exposure to new people.
Anna Mitchell Egan knows more than a little about the connection between beer and the Catholic faith. Host of the nationally syndicated "Son Rise Morning Show," produced by Sacred Heart Radio in Norwood, she's also one of the organizers of the annual Cincinnati Theology on Tap young adult lecture series.
"Catholicism touches all aspects of our life, so why shouldn't we learn about and celebrate our faith together with a beer in a pub?" she said. "And when we meet together at a place like a bar, others can see that Catholics can be serious about their faith and still have a good time. You don't have to be anti-fun in order to be religious."
The friars agree. Father Langenderfer hopes the new beer is enjoyable in every sense. And what does he want people to do when they hear about it?
"Come see the Shrine," he said. "And come to the party!"
Franciscan friars will bless the St. Anthony Belgian-style Quadrupel Ale when Urban Artifact opens at 4 p.m. on Fat Tuesday, (Feb. 28). The party will continue until close with live music from Jazz Renaissance from 5 – 7 pm and local food vendors including King Cakes from Happy Chicks Bakery in Northside. For information, visit ArtifactBeer.com.
More about beer, friars, and Lent
Franciscan friars from St. Francis Seraph Church will bless Christian Moerlein's Bock (special Lenten beer) at Cincinnati's 25th annual Bockfest in Over-the-Rhine at about 7 p.m. on March 3 at the Christian Moerlein House Taproom ( "Bockfest Hall" for the weekend), following the annual irreverent Bockfest Parade. Live music will be presented all night.
Before and during the parade, Old St. Mary's Church will hold its annual Lenten fish fry in its parking lot. Diners can eat indoors or watch the parade from the street. On Sunday morning, Bockfest patrons can join Old St. Mary's at 11 a.m. for its weekly German Mass, which will be specially festive: Many attendees on this day wear German dress, German societies will process with their banners, and popular German band Vereinsmusikanten will provide the music.
Like Mardi Gras and Carnivale, Bockfest includes many events, not all of which are family-friendly. For a complete list of events, visit BockFest.com.