St. Cecilia School in Oakley sees 22 students baptized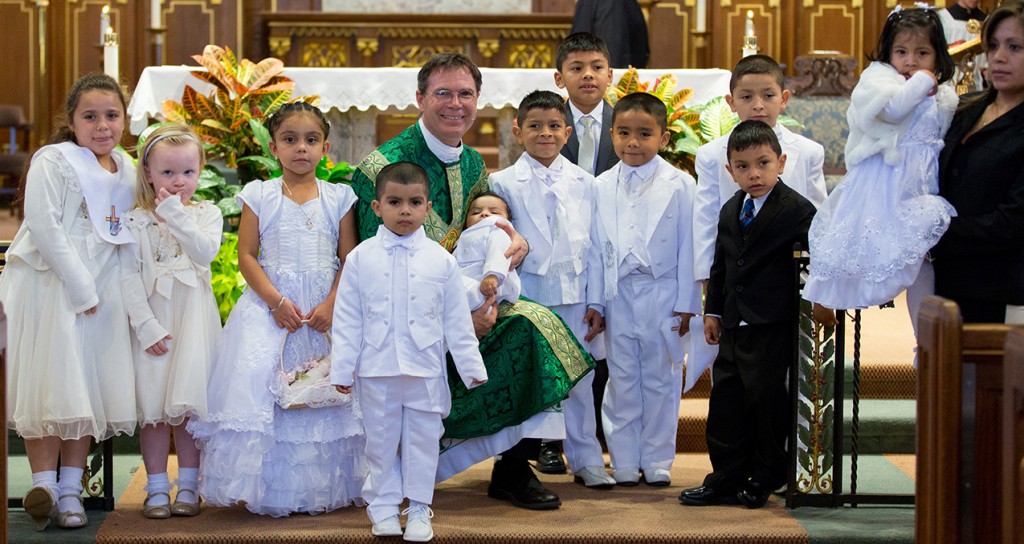 A few years ago, according to St. Cecilia Principal Mike Goedde, the Catholic population of his school was roughly 30 percent. That percentage is now 51 percent Catholic.
While growing enrollment and changing demographics have played a role, the school and parish have made an intentional effort to be more missionary. The result over the past year and a half is 22 students baptized into the faith. A handful more are in preparation to be baptized.
Click here for more Catholic Schools Week stories
"It is a missionary act that we're doing," Goedde said. "We're evangelizing. I think it reinforces everything the diocese would want for Catholic schools. This is ultimately why we are here."
With the support of Pastor Father Jamie Weber, Pastor, the help of Archdiocese of Cincinnati and dedicated parents more and more students are becoming full members of the church through their involvement with the school.
In 2012-13, with only seven Latino students enrolled in the school, St. Cecilia made a push broaden its outreach to that community. One of the earliest parents to get involved was Bucio. The mother of two daughters at the school is the official "Madrina" or parent ambassador for the school to the Latino community.
"I liked to talk to people and ask them how they are doing," Bucio said. "I started to ask, "Hey, is your child baptized,' and they'd say no. I'd see there were a lot that didn't have anything, any sacrament. I started to think, maybe we could do something."
The first year after the push St. Cecilia had 26 Latino students. There were 43 last year and 58 are enrolled presently. Latino students now make up 29 percent of the student population. An additional 29 percent is African American, 27 percent are Caucasian, 13 percent are multi-racial and two percent are Asian.
Mayra Wilson, Coordinator of Latino Outreach for Catholic Schools for the Archdiocese of Cincinnati, said that while many Latino families coming to St. Cecila came from Catholic cultures, the children are often not baptized.
"The parents feel like, 'Wow, this is what it is like to live our faith," Wilson said. "I think the biggest thing is, the school has done such a good job welcoming the families so all of the sudden families are like, 'Oh, this is a great place.' Latino families are hungry to learn more about their faith."
The growth at St. Cecilia mirrors what has been seen archdiocesan-wide. Since the archdiocese began a Latino outreach five years ago, there has been a 68 percent increase in Latino enrollment at Catholic elementary schools. In the archdiocese as a whole, 3.5 percent of students are Latino.
At St. Cecilia, not all the student baptisms have been Latino students. African American and Caucasian students have also been baptized. The reason for the cross-demographic success, Goedde said, is an authentic presentation of the faith.
"We presented the faith and it was not watered down. It was genuine," he said. "That was driven by the pastor and parish expectations for the school and the school children. I think it is a combination of hard work, missionary zeal and genuine outreach, particularly with our Latino families."
The baptisms have taken place in public contexts. Eleven students were baptized at an all-school Mass on Nov. 15, and five more were baptized on the Feast of Our Lady of Guadalupe in December.
"It has a ripple effect to what it has done to the culture of the building," Goedde said. "When you go from 33 percent to more than 50 percent, even those students who are not Catholic… they see and sense an importance of faith, some faith. It has changed the culture of worship and the culture of the overall building. It has become more Christ centered. It feels different.
"We're always going to be welcoming to students and we want to serve students who may not be Catholic," he added. "If they have a conversion to the faith, great. If they don't but they realize they're in a Christian-based environment, good."
Father Weber added that the increase in baptisms has led to many parents considering the faith for themselves, and not only their children. Some couples have sought to have their marriages convalidated in the church as well.
"We've put it out there and people are seeing this and its definitely had an effect," Father Weber said. "Parishioners here want to support what's happening with the school."
Most of the Latino students that have been baptized attend Mass at San Carlos Borromeo (St. Charles Borromeo) Catholic Church in Cincinnati, but Father Weber said he feels a responsibility for the students at his parish school.
"We don't have an overwhelming amount of Latino's going to Mass as parishioners," Father Weber said. "But they're parishioners in my mind in the fact that they're going to the school and I have an obligation to be a part in their lives."
The students who have received the sacraments at St. Cecilia since enrolling run from preschool to eighth grade. A group of students offered their thoughts on the experience to The Catholic Telegraph.
Eighth grader Maddy Bolin was baptized, confirmed and received first Holy Communion at last year's Easter vigil.
"You have to go through RCIA first. I liked that," she said. "It took a while but it was worth it. The Easter vigil was late night and it was cool."
Fifth grader Eduardo Garcia, who's favorite things about school are field trips and art class, said he received first communion last year, and baptism the year before.
"It made me feel happy to be baptized here at St. Cecilia," he said.
Sarai Arrazola, a sixth-grader, liked how baptism brought her family together.
"I got baptized this year and I liked when I got baptized because my whole family was here," she said.
Saida Rangel, a sixth grader who saw her brother baptized earlier this year and made her first communion last year reflected on the preparation process.
"It was kind of hard to memorize everything," she said. "Taking Jesus inside your body… It is important to me because I've never been Catholic so I thought my first Eucharist made me feel good and was different."
Kenya Arrazola, sixth grader, was baptized with 10 of her classmates at the all-school Mass.
"I was kind of really shy because everybody in my class was there, but I liked it," she said. "Now I can be a sacristan and help with Mass."
Kenya Arrazola was wearing a medal featuring an angel. It was a gift given to her by her godparents. She says she's worn it every day since being baptized.
This story first appeared in the February 2016 print edition of The Catholic Telegraph.