Throwback Thursday: New computers, same mission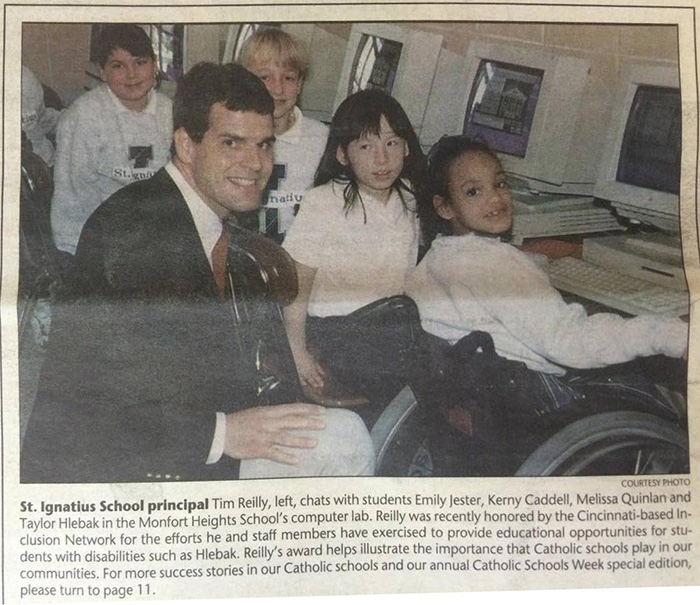 Catholic Schools Week has been around since 1974, one year before Apple Inc. started donating Apple 1 computers to schools. Over the years that followed, Catholic schools were often among the leaders in integrating technology in the classroom.
By the new millennium, Catholic schools in the Archdiocese of Cincinnati had state-of-the-art CPUs like the ones seen in this Throwback Thursday photo from 2001 at St. Ignatius of Loyola Catholic School in Monfort Heights.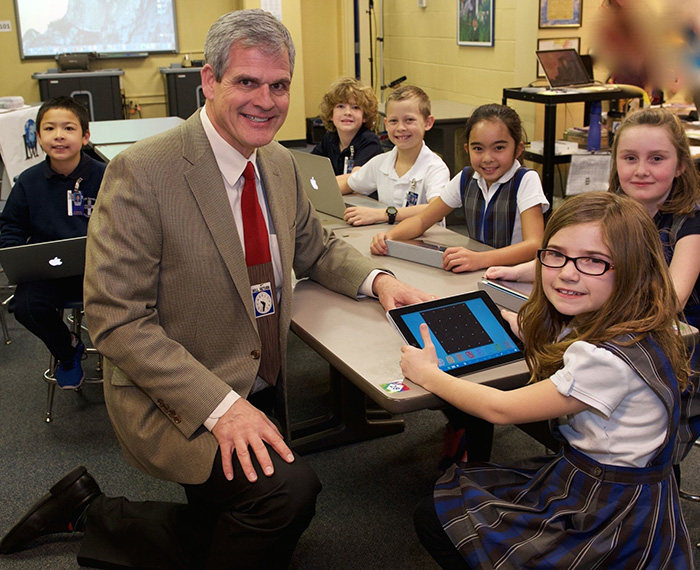 In the photo St. Ignatius Principal Tim Reilly, who still holds that job, poses with students in the computer lab to illustrate the efforts his school made in inclusion for students with disabilities.
On a whim, the Throwback Thursday team reached out to St. Ignatius staff with the photo to see if Reilly was willing to reprise his role in the photo 15 years later. He was.
Lynn Esmail, advancement director for St. Ignatius noted that while in 2001 Reilly was honored for reaching out to students with disabilities, he and the school have continued in that mission.
"Students are now using iPads, laptops, and smartboards, however, Mr. Reilly's commitment to all learners has not changed," she said. "This past year, he won the Edward Shaughnessy III Award for "Embracing all of God's Children".
Happy Catholic Schools Week to all students, teachers and parents in the Archdiocese of Cincinnati.
Welcome to The Catholic Telegraph's edition of Throwback Thursday. Throwback Thursday is a weekly online feature wherein users of social media share an old photo or anecdote about times gone by. We use Throwback Thursday to highlight the history of the Archdiocese of Cincinnati, and our publication.
Recent Throwback Thursdays
Remembering the Challenger
Fighting Roe vs. Wade in Year One
Li'l Sisters Keep Kids in Line
Catholic School Grad Griffey Jr. makes Hall of Fame
Caroling with The Catholic Telegraph