An adventure in citizenship begins for 2016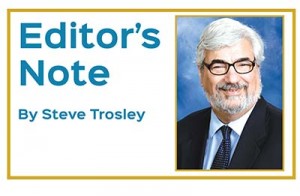 When you write it down, you put yourself in the game. So says a writing coach who specializes in getting people past writer's block.
We have embarked on one of the great American adventures in citizenship — a presidential election year. As I write this, the Iowa Caucuses are a few weeks away but by the time you read this, those raised hands will have been counted.
When I was a secular newspaper editorial writer, I had a finely honed editorial template that I could flesh out before each election, talking about a citizen's responsibility to cast his or her vote. That invariably brought an angry phone call or letter telling me I had no right to tell people they should vote. It was, after all, their choice in a free country.
Pope Francis would not agree, at least in the case of Catholics:
"An authentic faith . . . always involves a deep desire to change the world, to transmit values, to leave this earth somehow better than we found it. We love this magnificent planet on which God has put us, and we love the human family, which dwells here, with all its tragedies and struggles, it hopes and aspirations, its strengths and weaknesses. The earth is our common home and all of us are brothers and sisters. If indeed "the just ordering of society and of the state is a central responsibility of politics," the church, "cannot and must not remain on the sidelines in the fight for justice." (Evangelii Gaudium, no. 183)
Whatever your politics and your level of involvement, the first step is what the U.S. Bishops call "faithful citizenship" is being informed. Visit the USCCB site HERE.
Elections were a big deal in my home when I was a child. My maternal grandfather, a naturalized citizen, made it a major production each election. He had one of us get a sample ballot from the county clerk's office. Everyone – his wife, his daughters and their husbands, and his grandchildren – sat around the dining room table and discussed the issues and the candidates with him. He would carefully mark the ballot and then take it with him to the polling place on Election Day. (He called it "picking the best crook" but that's a story for another time.)
I would urge that part of your exercise in faithful citizenship include family, friends, and fellow parishioners – anyone you can talk to without getting into a fight. It's good for the kids to see you being diligent about citizenship and you might be surprised what a bit of discussion can teach you.
As early as my first grade years, I was pulled into the election frenzy. My mother was certain the world was going to end if Adlai Stevenson was not elected president in 1956. She advocated his candidacy to me with a great sense of urgency. He did not and it did not.
When I started covering politics for newspapers, I found the best way to keep up with the flood of palaver was to write things down. The exercise is simple. Make four columns on a pad of paper. In the first, write "Issue." In the second, "write what I know." In the third, "what do I think," and as a Catholic, write in the final column, "church teaching."
You can find all you need to know on church teaching on the website listed above. You can also ask your pastor, or even the ministries here at the archdiocesan Central Offices. The more information you develop from your own efforts, the greater the reward when you mark your ballot next November.
If you write it all down, you are involved in the game.