St. Charles Borromeo Bible Camp celebrates 25th anniversary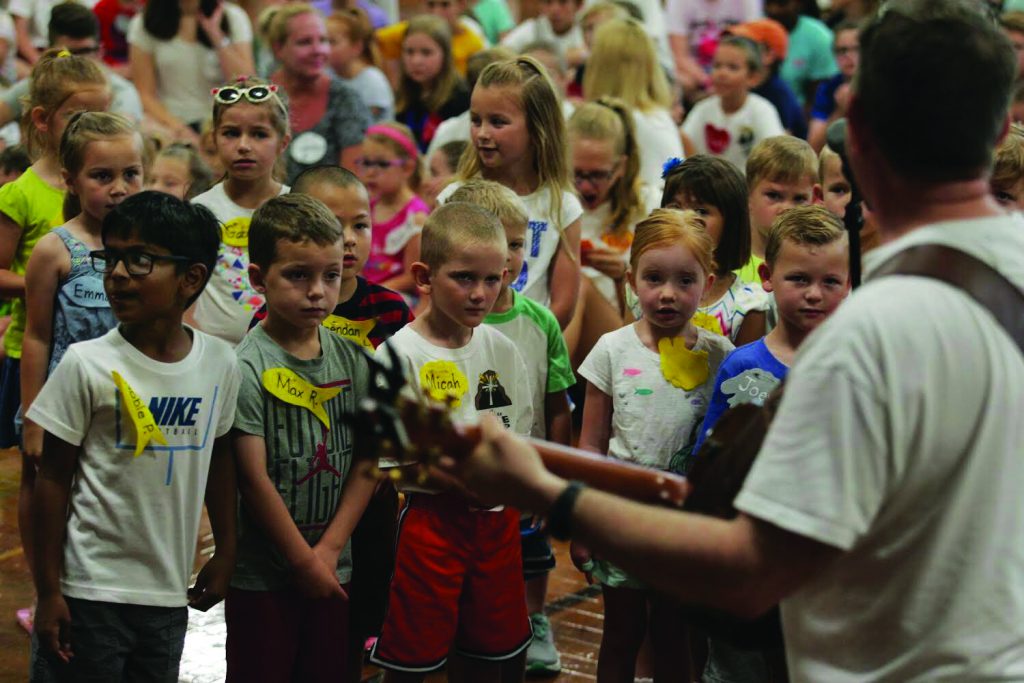 By Erin Schurenburg
Thirty five years ago, when native Ohioans Joanie and Thomas Burkhardt moved to California with their four young children, aged 3 to 9 years old, Bible Camp at their new parish of St. Hedwig was the first church event they experienced. The fellowship of the camp enveloped a family far from home in a warm welcome.
Nine years later, the family returned to Ohio. One of Joanie Burkhardt's first endeavors was to establish a Bible camp at their new parish, St. Charles Borromeo in Kettering. Following months of planning, the St. Charles Bible Camp launched with the theme, "Adventures with Jesus." Two hundred and thirty-three campers and 110 volunteer staff participated. The camp continued
perennially at summer's start reaching a quarter century milestone this year. Although many attendees are "repeat customers," cumulative attendance in these last 25 years is just over 9,500 participants.
The 2019 Bible Camp happens June 24-28 from 9 a.m. to noon. This morning camp is open to parishioners and non-parishioners alike, Catholic or non-Catholic. Each new camp year features a theme intended to anchor participants in the love of God, using music, crafts, teachings and physical activities. "To Mars and Beyond" is the theme for this year. Staff will use Old Testament stories from the lion's den in the Book of Daniel and Esther's stand in the Book of Esther. The last three days include New Testament stories from the Gospel of Luke. The daily teachings will help attendees explore where God's love can take us. From biblical stories, the participants are reminded to go beyond faith, beyond boldness, beyond kindness, beyond thankfulness and beyond hope.
Campers are kindergartners through sixth grade. If a parent or guardian is volunteering at the camp, then preschool or nursery programs are also available. The onsite, vetted nursery care is free. Seventh graders up to high school graduates can volunteer as teen staff. The parish youth ministry will provide a Teen Enrichment Program and teen staff may use their time at camp to be recognized for 15 hours of community service. Adults who volunteer must have attended VIRTUS training. The parish will be providing a VIRTUS program prior to camp.
Erin Fanning is the sacramental coordinator for St. Charles. She has been participating at the Bible Camp for the last 16 years as a teacher, sometimes with a baby on her hip. "Instead of going on vacation, we go to Bible Camp," Fanning said. Her husband, Jessie, provides music ministry at camp. Some grandparents come from out of town to volunteer.
In the case of the Burkhardts, those four now-adult children return to their parents' home for camp week whenever possible. This year, two of the Burkhardt siblings will be teaching at the camp. Dr. Mary Carol Burkhardt is a physician at Cincinnati Children's Hospital. She will bring her children and use her vacation time to help at camp. Her sister, Susan Burkhardt Frederick, a CPA in Cleveland, along with her children will also join camp-week. Another daughter in Denver, though unable to attend, is sending her two children. The Burkhardt family home will swell to 16 people during Bible Camp week.
"The camp is just a lot of fun," Joanie Burkhardt said. "The model we have established works well each year so we don't have to reinvent the wheel. A lot of the teen staff were campers and these kids often go on to be recognized in the future for how they give to the community."
Depending upon the interests of the child, the lasting memories may be of making crafts, learning interactive songs or even just eating popsicles with friends. "My kids and several others love to sing the song, 'Bugs for Lunch," a song about John the Baptist. Part of the experience involves consuming gummy worms," Fanning said.
No one is neglected from learning and growing. Each morning begins with a whole group assembly with prayer and singing. The assembly then breaks into smaller groups for an hour of classroom instruction, and thirty minutes each of arts and crafts and physical education. The groups participate in these activities in varying order. At 11:30, there's more singing, and the morning ends with a closing prayer.
"We have a lot of talent, especially in our teen staff," said Burkhardt, adding that, "Everybody has more friends after camp."
On the last day, Bible Camp ends with a Mass to which the whole parish and larger community has been invited. In honor of the 25 years that the Bible Camp has been operating, Bishop Joseph R. Binzer will be the celebrant at the June 28 Mass.
All campers receive a T-shirt with a new design from prior years and one music CD per family. Special needs children are welcome. Scholarship assistance may still be available. Camp fees are due at the time of registration and are $40 for one camper, $60 for two campers, $80 for three or more campers in one family.
For more information, contact the Faith Formation Office at St. Charles Borromeo at (937) 434-9272, or visit stcharles-kettering.org.