St. Louis Archbishop Vows: Catholics will not Comply with Bill Promoting Abortion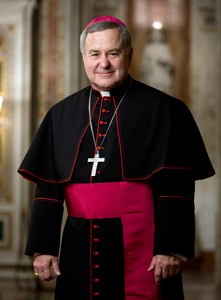 By Gail Finke
St Louis Archbishop Robert Carlson issued a statement Monday vigorously opposing a proposal by two city alderman to make St. Louis a "sanctuary city for abortion."
In December, the two aldermen were the lead sponsors of a bill that would and add "pregnancy and reproductive health decisions" to the city's anti-discrimination ordinance.
Bill 203 would prohibit businesses from firing or demoting women for having abortions, or for other unspecified "reproductive health choices" that may include using in-vitro fertilization or a so-called "surrogate mother." It would add the words "reproductive health decisions, pregnancy status (including childbirth or a related medical condition)" to the statue currently prohibiting discrimination for "ace, color, religion, national origin, sex, sexual orientation, gender identity or expression, handicap,or familial status."
Archbishop Carlson called the bill "vague and ambiguous" and warned that it could have "terrible consequences for religious institutions."
The bill, he said, could result in fines levied against Catholic schools and hospitals, prevent landlords from refusing leases to abortionists, and require Catholic organizations to employ people who promote abortion.
"This proposed ordinance…. would force the people of St. Louis to be complicit in the profound evil of abortion," he said. This would be a flagrant violation of religious liberty and individual rights of conscience."
"As the shepherd of the faithful Catholics of this region," the document concludes, "let me be clear that the Archdiocese of St. Louis cannot and will not comply with any ordinance like Board Bill 203 that attempts to force the Church and others to become unwilling participants in the abortion business. There is no room for compromise on such a matter. "
The bill is not the only abortion-promoting legislation in the works for St. Louis. Days before the new year, Alderman Ingrassia announced she intends to introduce measures that would create a buffer zone around abortion businesses and make "disturbances at a reproductive health clinics" against the law.