Tim Nealeigh: North Star's Traveling St. Nick
by Susie Bergman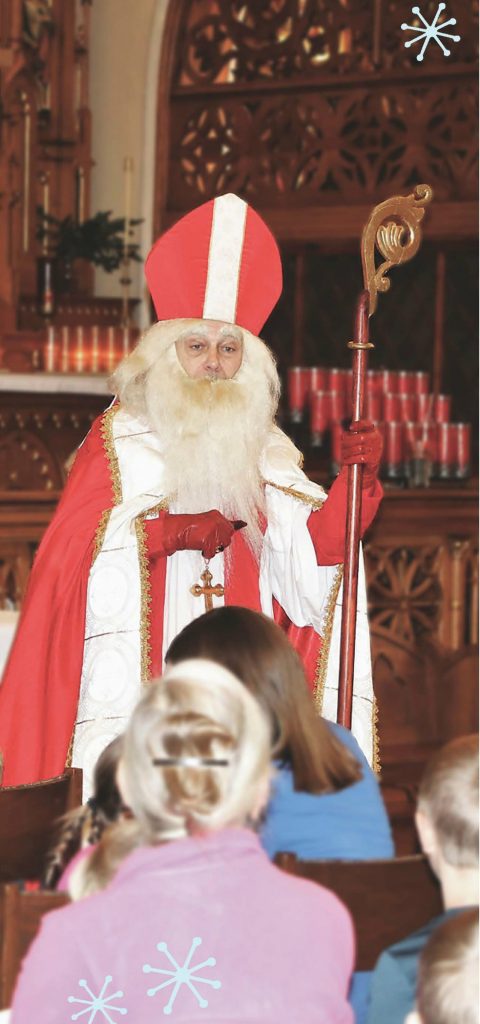 "The most important thing I want to share is that I do not have an agenda. I am not out to get rid of Santa Claus!"
Tim Nealeigh is a humorous and delightful man on a historically important mission. That mission spans decades of his life, yet it came to him out of communal necessity rather than his own plan or desire. Many years ago, when he was Drama Director at Tri-Village High School in Darke County, the principal approached him with a unique request. St. Paul's Episcopal Church in Greenville was hosting a St. Nicholas event and the beloved bishop's costume had not arrived in time. "They wanted to know if there was anything I could do to help with the missing costume," recalled Nealeigh, "so I pulled some pieces together and ended up portraying St. Nicholas for their event. That's really where it all started."
Nealeigh, who has worked in education for nearly 40 years, is also a professional actor, choir director, historian and avid collector of nativities, advent calendars, rosaries and chaplets. He and his wife, Katheleen, who is also an educator, shares a passion for all things Christmas and St. Nicholas. They reside in Greenville in a century-old home filled with antiques and unique memorabilia from their worldly travels.
After his first portrayal as the generous Bishop from Myra, he immersed himself in research to improve his performance. He models his costume after the garments the western bishops would have worn at that time and even includes an olive-wood crucifix from Jerusalem. News of his historically accurate depiction spread and he soon began averaging seven to eight appearances each year during December throughout the Cincinnati of Archdiocese and Columbus.
"It's important for children, and even adults, to understand that, long before there was a jolly old man named Santa Claus who delivered gifts to good children on Christmas Day, there was a bishop named Nicholas who was admired for his piety and kindness," said Nealeigh.
Although most of his appearances are designed for children, Tim and Katheleen performed a light-hearted show for adults entitled "Yes, Virginia, there is a St. Nicholas!" at the Maria Stein Shrine last year. When he is performing for children, he does not mention Santa Claus so as not to confuse them. Children, of course, are very curious and often ask him if he really is Santa Claus, to which he replies, "I tell them that Santa Claus is my modern name and I that I look different because I come from a different time."
He then relates this to seeing old photographs of their grandparents. The clothes and hair likely appear different, because fashions evolve through the ages, just as they have for Bishop Nicholas. "I approach it this way: not to dispel the magic and mystique of Santa Claus, but also to highlight the modern evolution of St. Nicholas."
Nealeigh further emphasizes the connection by explaining the evolution of his name. "The name Santa Claus evolved from the Dutch nickname for St. Nicholas – Sinterklaas. It was a mispronunciation that led to Santa Claus," he said.
The spirit and ministry of St. Nicholas lives on through him and continues to inspire his mission.
"Every year I purchase 40 pounds of [chocolate] gold coins. If there are any left over, I take them to St. Louis Church, where I am the choir director, and distribute them on Epiphany because one of the three kings brought gold. Besides, I can't eat all that chocolate by myself!" he said.

Just a few miles away from his parish in North Star resides St. Nicholas Church in Osgood. When Nealeigh started his mission, he began collecting small statues of the saint. His collection peaked at 105 pieces, some of them commission by artists he met throughout the years, and he began displaying them at various locations in the area. Eventually, he offered the collection to St. Nicholas Church, and they accepted. The church displays parts of the collection, rotating pieces in and out, for all to enjoy.
This article appeared in the December 2020 edition of The Catholic Telegraph Magazine. For your complimentary subscription, click here.