Station's longtime goal: a priest on the radio every day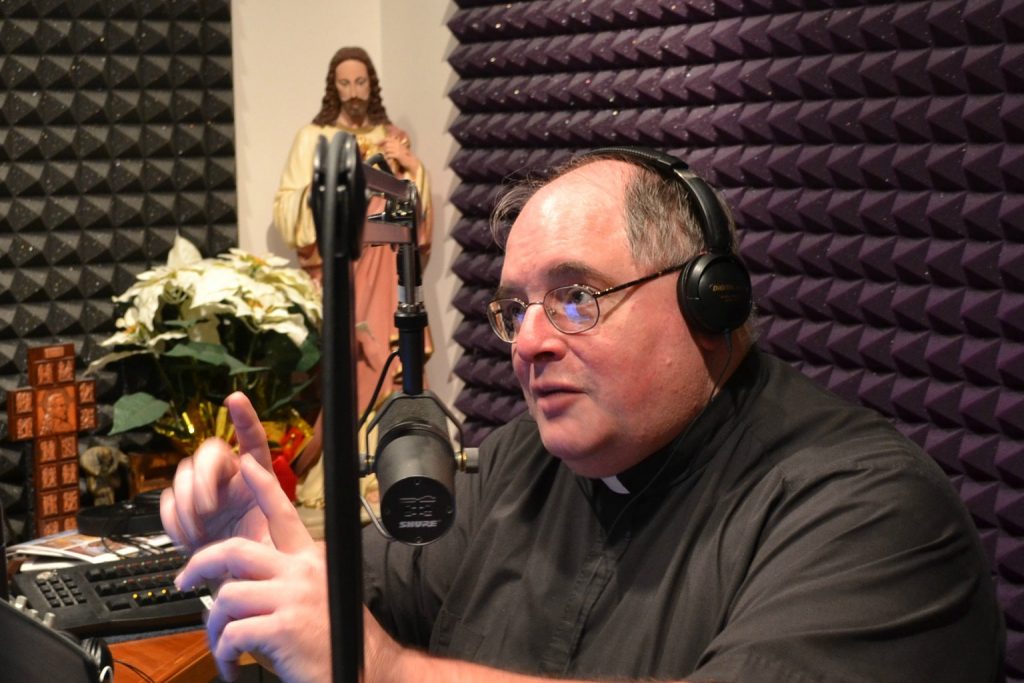 NOTE: Father Rob Jack's title for the Clermont County Region was incorrect in our print edition; he is the new parochial vicar. Father Martin Bachman is the pastor.
"We wanted a priest from the beginning," said Sacred Heart Radio's General Manager Bill Levitt. "We've been trying to hire a priest for more than 10 years."
     Area priests and bishops have recorded prayers for the station and appeared as guests on the "Son Rise Morning Show," but none have ever hosted a program.
     When previous efforts didn't pan out – most area priests have multiple assignments, and though Father Jack had been working with the station since its earliest days, he had a heavy teaching schedule at the Athenaeum of Ohio/Mount St. Mary's Seminary of the West – Levitt said he realized it was time to stop trying to make the show happen and start leaving arrangements to God.
     "The best way to characterize it is this," he said. "When I said, 'Yes, we will try to have a priest here,' the Lord said, 'Thank you for your yes, but I've got somebody else in mind and it's not time yet.'"
     When the time came, Levitt said, the arrangements fell into place. "I was on a sales call, and the person I was talking to said, 'When are you going to start doing your own afternoon program?' It was at that moment the Holy Spirit said, 'This is the time.' The other times, when I was trying to do it myself, no inspiration came. But this time, it was like a whack on the head from a third party."
     Soon after, Father Jack told him that he was going to be reassigned from his seminary work. "Things just fell in place," Levitt said. "And now Father's no longer talking to a class of 20 people. Now he has access to two million people every day. Some of this has got to be the Holy Spirit. When He wants something done and you're doing it small, He's going to step in and say, 'You ain't seen nothing yet.'"
     Although Father Jack is the first priest from the Archdiocese of Cincinnati to be assigned to a radio station, he will also serve parishes. On July 1, he began as parochial vicar of the Clermont Parish Region, which consists of St. Ann, Holy Trinity, and St. Philomena Churches, as well as St. Louis Church and School.
Click to read companion articles "Don't touch that dial: Catholic radio station seeks to own drive time" and "Media Catholics of the 20th century."