Steve Trosley for December: Season's greetings? Don't be afraid to offend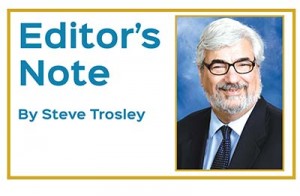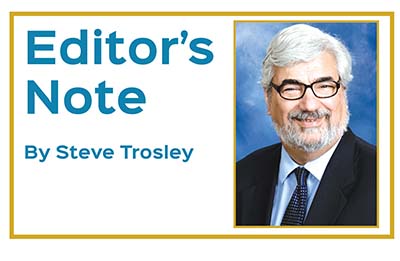 What are we saying this year? Season's greetings? Holiday greetings? Merry Christmas?
Anecdotal evidence would seem to indicate that how we greet others at Christmas time has more to do with fear than with conviction. We fear that we will offend someone or instigate an unpleasant confrontation. So we default to the least innocuous of greetings. And so it goes with much public discourse in these tribal times. We surrender to the pressure of our secular culture.
"I want Catholics to feel unafraid. It's such a shame that anyone would live their faith in fear … of making a mistake, fear of answering questions, fear of offending."
That's a quote from our newest columnist, whose story you will read elsewhere in this edition of "The Catholic Telegraph." Nicholas Hardesty, a member of the team bringing the archdiocese's new catechetical institute—Vocare—though its birthing process, physically bristles at the thought of a Catholic unable to evangelize because of fear.
Nicholas' passion for the faith and for sharing the excitement he feels about Catholicism lead him to develop a vision he calls, "Seize the Moment," which became the name of his new column. His envisions that through the column and the content of the Vocare, Catholics will be armed and ready to engage those occasional opportunities that arise for us individually to catechize – teach others about our faith. Vocare responds to the Great Commission: "Go, therefore, make disciples of all nations…" (Matthew 28:19). Jesus did not say, "Go make disciples of all nations, taking care not to offend anyone along the way."
Learning more about your faith should help you conquer your fears, whatever they may be, and be "emboldened," as Nicholas says, by the excitement you feel about what you have learned. It's not up to just the clergy, religious and certified catechists. We should all be catechists.
We look forward to hearing from you as you apply the insights and scriptural support Nicholas presents in his column, coming in January.
One of the more interesting evangelizers I've encountered in the past several years is Frank Caggiano, Bishop of Bridgeport, Conn.
First, he looks a lot like he came from my boyhood neighborhood. Most appealing is his direct, no-nonsense, family dinner table delivery that brings the message home without the church-speak that burdens so much of today's discourse on religion.
Bishop Caggiano spoke of another tool in evangelization: Humility. At the USCCB convocation in Florida last year, Bishop Caggiano urged individuals and groups within the church to come to a realization that an individual's or even a group's idea or program are not necessarily what's going to save the Church from its many challenges in the modern world. He said, "The Church already has a savior and that one savior is Jesus Christ."
While it might be painful to surrender our egos and our independence to others, the humility that enables that surrender becomes a tool for evangelization.
Knowledge, Seize the Moment, boldness, Vocare, humility. A very good start for the new year of evangelizing.
♦
A member of "The Catholic Telegraph" family has decided to join the ranks of the retired. But even given that I have only known Michele Boullie-Nolan for five years, I cannot imagine her living life of disengagement. An excellent salesperson with a 20-plus year history of service, Michele will undoubtedly busy herself with family (including grand-parenting) and other pursuits when she leaves us Dec. 31.
She has been part of the social glue that holds the CT staff together and we thank her for her efforts. We will miss her gentle, positive and loving presence.
♦
Merry and Holy Christmas and Happy New Year to
you and your family from "The Catholic Telegraph" staff and management.