Sts. Peter and Paul building Navajo relationship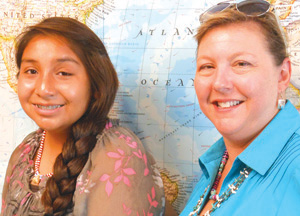 By Megan Walsh 
The Catholic Telegraph  
Janelle Buffalo of the Navajo Native American tribe in Tohatchi, N.M. visited the Archdiocese of Cincinnati in July for three weeks to further build the relationship between her tribe and Sts. Peter and Paul in Redding, Ohio.
Beth Pettigrew, Youth Minister at Sts. Peter and Paul, first extended interest in visiting the Tohatchi reservation in 1998 and in 2000, took the first group of teenagers for a mission trip.
For the last 13 years, Beth has taken over 100 teenagers and adults to the Sisters of Saint Francis in Tohatchi to not only work on manual labor projects but also build a relationship with their Catholic church, St. Mary's Mission.
"We help them with vacation bible school every year now," Pettigrew said. "That has been a gift from our parish to theirs."
It only took that first experience to realize that it was not so much a mission trip as time for faith formation.
"It was much more of a retreat and a time for spiritual growth," said Pettigrew. "We have made it a priority to focus on the relationship also."
Pettigrew says that they set themselves apart from other groups who go there, work for a week and then leave.
"We try and learn as much as we can about the Navajo culture and their traditions," said Pettigrew.
The serenity of Tohatchi has brought Pettigrew and her visitors closer to God and taught them much about relaxing in the majesty of Christ.
The friendship with Janelle and her family shows that dedication to relationship. Janelle began attending vacation bible school when she was young and it has made such an impact on her over the years that at her young age of 14, she now leads the youth group at St. Mary's Mission.
Over the years of visiting, the youth group at Sts. Peter and Paul has experienced much of Navajo tradition and their way of life on the reservation. It is a different culture than what Cincinnati youth are familiar with.
"It's faster-paced here," said Janelle. "[On the reservation] it's calm and quiet and more relaxed."
When Janelle visited last year with her family for a mere 12 hours, her father remarked that it felt very closed-in because he could barely see a mile in any direction. In New Mexico, the land is clear for many miles.
When the opportunity presented itself for Janelle to come to Cincinnati for a lengthy stay, she quickly accepted.
She has been spending time with the youth group members of Sts. Peter and Paul who she has seen over the years when they have traveled to New Mexico.
From going to the zoo together to Kings Island, shopping at the mall and trying Skyline chili, a true friendship has grown between the young Navajo and the Cincinnatians.
Both Pettigrew and young Janelle hope for the relationship to continue to grow over the years because it benefits everyone involved and it helps highlight the importance of learning about another culture.