Lay missioners take 'leap of faith' after retirement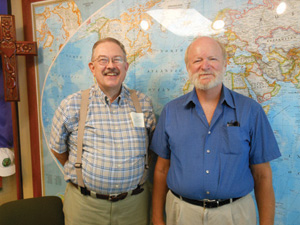 By Eileen Connelly
The Catholic Telegraph 
Two men with ties to the Archdiocese of Cincinnati are spending their retirement years sharing their gifts, wisdom and experience with others as lay missioners.
Originally from the Cincinnati area (specifically, Florence, Ky.), Roy Wilmhoff enjoyed a lucrative career as a software design engineer before God's call led him in an entirely different direction. The father of two adult children, Wilmoff began studies at the Athenaeum of Ohio/Mount St. Mary's Seminary with the intention of becoming a deacon, driven, he said, by the sense of the diaconate of Christ as servant. He completed a master's degree in pastoral ministry and soon found a way to be of service as a member of Kateri's Companions in Ministry, a lay mission association based in Prince Albert, Saskatchewan, dedicated to ministry in First Nations communities.
Asked what led him to mission service, Wilmhoff stated the obvious: "God."
"It's a vocation," he explained. "Once you experience your vocation, it's who you are."
He currently serves as a pastoral administrator at Holy Cross Church, the parish for Sturgeon Lake First Nation, a Cree community outside of Prince Albert. In addition to providing pastoral care for indigenous people in the area, Kateri's Companions in Ministry also operates an urban ministry center in Prince Albert. The city has a population of 40,000 of whom more than 40 percent are aboriginal, representing a variety of cultures. Many indigenous people suffered psychological and spiritual damage as a result of the residential school experience, which forced many First Nations children away from their families and deprived them of their ancestral languages. As a result, many people have been left with generational scars and are in need of healing, Wilmhoff explained. At Kateri House, they find a welcoming environment, he said, where emergency food assistance, crisis counseling and other services are provided.
Wilmhoff, who also spent many years a prison chaplain, said one of the most rewarding aspects of his ministry among the First Nations people has been earning their trust and respect and being welcomed into their communities. "There is a sense that we have been accepted by them, that we are part of their community, part of their family," he said.
To other retirees who may be discerning a call to lay mission service, Wilmhoff said,  "Do it!! Trust God to take that leap of faith. There may be things you'll be more comfortable doing, but if you really want to meet Jesus face to face, then you have to  go where God leads you."
With a strong sense of where God is leading him, Greg Wagner will be leaving in August for a yearlong stint with the Christian Appalachian Project (CAP). The interdenominational, non-profit organization is committed to serving people in need in Appalachia by providing physical, spiritual and emotional support through a wide variety of programs and services. Wagner previously served with the organization in the early 1970s.
A Cincinnati native, who attended St. John the Evangelist Parish and Moeller High School,  Wagner admits to trauma in his spiritual life that resulted in his "walking away from the church and God." After an absence of nearly 20 years, he found his "spiritual home" at St. John the Evangelist Parish in West Chester, where he participated in Christ Renews His Parish and has been actively involved in a variety of outreach efforts.
As he has read Scripture and listened to the Sunday readings, Wagner said, "I have often wondered if there isn't something more that God expects of me." Taking that thought to prayer, Wagner realized the comfortable life he was leading had started to seem almost pointless, so he left his job as a printer technician, began whittling down his possessions and sold his home in preparation to answer God's call. Much of his time with CAP will be spent as part of a rehab crew engaged in various repair and construction projects on the homes of people living at or below the poverty level.
As he reflected on his journey of faith, Wagner acknowledged that sometimes "this whole God thing is hard to understand," but added, "I do believe that He has put me on the path he wants me to follow and has put it on my mind and on my soul to do what it is I'm about to do."
According to Mike Gable, director of the archdiocesan Mission Office, there are nearly 100 Catholic organizations looking for volunteers over the age of 55 who have the skills, experience and maturing spirituality to share their gifts with others, ranging from spending one to three weeks on an immersion trip to Bolivia, to spending a year on an Indian reservation in the Southwest.
The Mission Office has information about many opportunities for both long and short-term missioner work in the United States and overseas.
For more information, visit
www.catholiccincinnati.org/mission, or
www.catholicvolunteernetwork.org.