New principals gather for 'boot camp'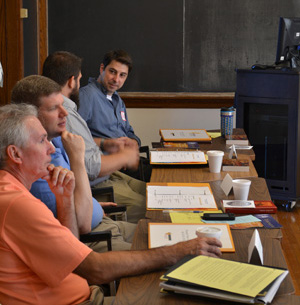 Megan Walsh
The Catholic Telegraph
New principals from Catholic schools throughout the archdiocese came together in late July for the first ever 'Principal Boot Camp' coordinated by the archdiocesan Catholic Schools Office.
"The weekend was about connecting them with their faith and helping them understand how it impacts their leadership," said Laura Meibers, deputy superintendent/director of the Tri-County Region.
There are 21 new principals for archdiocesan Catholic schools for the upcoming school year and 16 registered for the weekend retreat, held at the Athenaeum of Ohio July 26-28.
"It's mostly about sharing with them all of the resources they will have at their disposable as principals," said Meibers. "There was an overload of information, that's why it's called a boot camp."
Throughout the weekend, participants heard from Father Earl Fernandes, dean of the Athenaeum of Ohio/Mount St. Mary's Seminary; Father Rob Jack, an instructor of systemic theology at the seminary; Jim Rigg, archdiocesan superintendent of Catholic Schools; Thomas Luebbe, principal of La Salle High School; and Catie Blum, principal of St. John the Baptist School in Dry Ridge, as well as many others.
There was definitely an overload of information about topics ranging from "Basic Catholic Moral Teachings" to "Administrative Matters" and "Personal Prayer and Tools for Spiritual Growth."
In between each of the sessions was time to chat with other principals and form long-lasting connections.
"Boot camp was a wonderful opportunity to expand our knowledge of the Catholic faith and in particular increase our abilities to share and lead a faith community," said Terry Adkins, principal of Queen of Peace School in Millville. "We made tremendous connections with other school leaders and that will surely make us stronger members of our own communities."
Terry Tyrrell, the new principal of St. Xavier High School, said, "I appreciated the opportunity to meet and get to know other principals in the diocese."
"The need for a Catholic Principal Boot Camp emerged out of research for Lighting the Way: A Vision for Catholic Schools," said Rigg through an email. "Principals are key religious leaders in their schools. It is vital that they be equipped with the knowledge and skills to foster a vibrant Catholic identity."
Attendees served in a variety of positions prior to becoming new principals. Some were previously employed as Catholic school teachers or assistant principals, while others served in public school systems. Two attendees have served as Catholic school principals in other dioceses.
"No matter their background, our principals need to be able to be effective religious leaders on the first day of the new school year" said Rigg.
Positive feedback after each of the sessions suggests that the weekend was a great success and a second annual retreat is a definite possibility next year.