Student group at University of Cincinnati adopts rule of life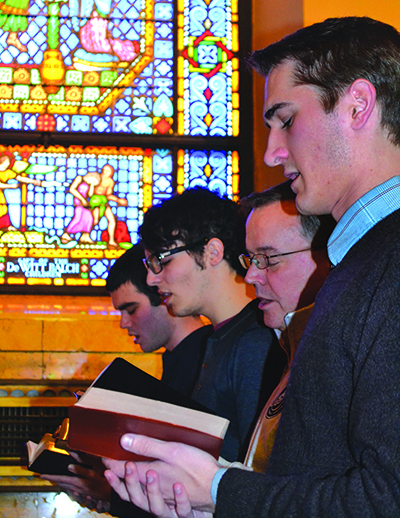 By John Stegeman
The Catholic Telegraph
"Your mission is to call all people into faith in Jesus Christ and His Church, centered on the Eucharist."
Surrounded by 24 pages of text that echo the poetic style of St. Paul, the above quote is the simplest synopsis of The Rule of the Society of St. Paul, a student group at the University of Cincinnati (SSP).
The University of Cincinnati SSP is a community of Catholic students who come together in the spirit of St. Paul and Blessed Pier Giorgio Frassati to grow in faith and support the New Evangelization on campus. SSP, formed in 2012, is based out of Annunciation Parish in Clifton.
As SSP's founders approached the end of their time in college, they wanted to be sure their ministry continued.
"If we wanted to continue as a fruitful ministry and to have a very strong spirituality that we could continue forward, we needed to have something established to codify it," said Marty Arlinghaus, program coordinator, former president of SSP and author of the Rule. "I was thinking of the Benedictines and how they've been around for 1,500 years and they have a rule. So I went out and read the Rule of St. Benedict and thought, this is something we need to do."
While SSP is not canonically a religious community, the Rule of the Society of St. Paul still requires much of its members. Between 40 and 50 students attend most SSP events, but 18 are fully initiated members.
Membership, according to the Rule, means students commit themselves to the spiritual life as practiced by SSP, Sunday Mass attendance, meeting attendance, training and evangelizing, work in a specific apostalate, attendance at adoration and more.
SSP chaplain Father Todd Grogan has been the pastor at Annunciation for 10 years. Located near campus, he has seen many UC students come and go. Father Grogan acknowledged the Rule isn't something easy, but said young people crave authentic ways to express their faith.
"'I'm not sure I would have signed up when I was in college," Father Grogan said, describing his initial reaction to the Rule. "Then I had to go back and read it a second time and said, 'Ok, I get it.' My third reaction was, 'I'm not sure too many people in college are going to sign up for it today.' Because it is demanding, and not in the sense that we're going to impose something totally alien to you, but is actually calling it to light. This is what we all know deep down if we're listening to our consciences.
"It pulls apart the myth that this does not appeal to people, that it does not speak to people and certainly doesn't connect with college-age students or recent graduates," Father Grogan added. "It most certainly does. Living the faith and being a Catholic Christian is relevant to people."
Ian Wilson, who will take over as president when Andrew Gangidine graduates, said the Rule has helped him grow.
"Even though it is fairly strict, it is a way to build yourself as a person," he said. "When I first read the Rule, there was a part I had been breaking and at one point openly said I may keep doing it. I realized not long after it that it didn't make sense. I've stopped breaking that part of the rule and it's nice to know we're building self control and things like that."
Arlinghaus said the Rule, much like the tenets of the faith, are not meant to lead to legalism.
"Catholicism is not just rules that you have to follow," he said. "It is a whole way of life in Christ."
At a SSP initiation, members pledge obedience to the archbishop. Archbishop Dennis M. Schnurrr, a long-time advocate of youth peer ministry, presides at the group's initiations and has given his blessing for the Rule.
"I have reviewed the Rule in its entirety and find it to be well written as if St. Paul himself was writing to the people," Archbishop Schnurr wrote in a Jan. 8 letter to Arlinghaus. "I encourage you to implement the Rule among the members and you have my blessing to continue your ministry in the Archdiocese of Cincinnati."
Among the instructions in the Rule are the guidelines for SSP's households. SSP has a men's and women's house where members live in community. About half the membership resides in the houses. Forbidden behaviors in the houses include gossip and slander, drug and chemical use, pre-marital sex and sex outside of marriage, underage drinking, theft and violence of any kind.
Arlinghaus, who is applying to Mount St. Mary's Seminary of the West to study for the priesthood, noted that the Rule may help other members to discern their vocations.
"At the very least they'll experience what it is like to have a demand placed on your life," he said. "You can't just pick and choose what you want to do and what you don't want to do. The decision to live by the Rule is a free choice. When you make that decision, you're now held to it, to follow through with it. That is an experience itself like being in a vocation."
Some selections from the text follow.
• "Brothers and sisters, we must always be in procession to the cross. It is our standard of life and salvation."
• "Understand that the authority you are obeying is a solid foundation for the Society's ministry to build on. It is not a constraint on us."
• "Your first priority is to do well in school because at this time in your life it is what you are called to do."
• "Remember that orthodoxy means right praise. It is about the wholeness of the faith, not only the doctrine. The orthodox is always dynamic and never puritanical or nit-picky."
While the Rule may seem daunting to outsiders or prospective members, Gangidine said it helps the group remain fully focused on its Catholic identity.
"You always see other groups handing out pizza," he said. "We're handing out rosaries. Even the first impression that people get from us, they get what we're about. We're not trying to make it a Catholic group more based on the social parts — and we do social things like game nights — but we never try to hide that we're Catholic."
This story originally appeared in the April 2015 print edition of The Catholic Telegraph.