Funeral of firefighter to be held at Cathedral of St. Peter in Chains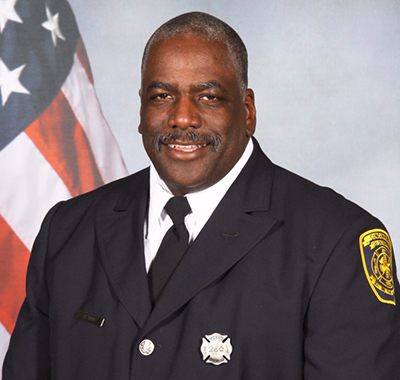 By John Stegeman
The Catholic Telegraph 
UPDATE: See coverage of funeral service and procession 
The funeral of City of Cincinnati Fire Apparatus Operator Daryl Gordon, who was killed in the line of duty March 26, will be held at the Cathedral of St. Peter in Chains Wednesday, April 1.
Though Gordon was not a Catholic, the cathedral is a centrally located sacred space with the capacity able to accommodate the large contingent of expected mourners. For the funeral, the church is open to uniformed firefighters, family and friends only, but the service will be broadcast live at Fountain Square.
Deacon Royce Winters, director of African American Ministries for the Archdiocese of Cincinnati, was instrumental in the cathedral being offered for the Liturgy of the Word service.
"I was called to University Hospital to minister to the family," Deacon Winters said. "There were friends of the family who had called me, and even though (Gordon) was a Christian he didn't have a home minister and I responded. In conversations with the fire department soon after that they were looking for a church that was large enough to hold a sacred religious service, knowing that Daryl was not Catholic."
While the size was a factor, Deacon Winters added that the Cathedral of St. Peter in Chains is also known for its annual Blue Mass which honors firefighters, police and other emergency personnel.
For a funeral of a non-Catholic to take place in a Catholic church permission was sought and granted from Archbishop Dennis M. Schnurr. Father Barry Windholtz, cathedral pastor, also gave his consent. Deacon Winters will lead the service.
"One of the things we take seriously is that we are called to minister to all the people within the territory of the archdiocese, which includes the fire and police department, but all of the territory," Deacon Winters said. "It gives us a visible presence that we are attentive to the needs of those who seek our assistance."
The gospel choir from the office of African American Ministries and the gospel choir from the Church of the Resurrection are merging to provide music. Tony DiCello, the music director is providing music as well. The fire department has a firefighter quintet that will be performing a song they specifically wrote for this occasion to honor their fallen brother.
The Cincinnati Fire Department has more than 900 members and firefighters from surrounding departments are also expected to attend.
A visitation begins today at 3 p.m. at the Duke Energy Convention Center, running through 7:30 p.m. A procession will begin at 8:55 a.m. tomorrow from the convention center to the cathedral. Spectators wishing to line the route must be in place by 8:45 a.m. The funeral begins at 10 a.m. Burial will take place at Oak Hill cemetery following the funeral.
A celebration of firefighter Gordon's life is planned at the Convention Center immediately following the service.
For more information on procession routes and road closures related to the funeral service, click HERE.
Posted March 31, 2015