The Triduum is underway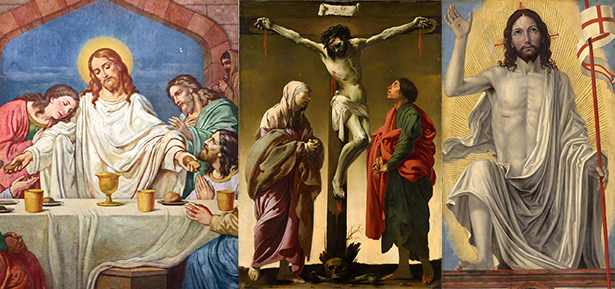 Staff Report
Beginning tonight and continuing through evening Easter Sunday, the Triduum is the summit of the liturgical year.
More Triddum-related stories
The website of the United States Conference of Catholic Bishops states, "though chronologically three days, they are liturgically one day unfolding for us the unity of Christ's Paschal Mystery. The single celebration of the Triduum marks the end of the Lenten season, and leads to the Mass of the Resurrection of the Lord at the Easter Vigil."
The Triduum includes the following liturgical services:
Holy Thursday: The Mass of the Lord's Supper
Good Friday: Good Friday of the Lord's Passion
Holy Saturday/Easter Sunday: Mass of the Resurrection of the Lord
For the schedule of these celebrations at the Cathedral of St. Peter in Chains, click HERE.
For the schedule of these and other celebrations at parishes throughout the Archdiocese of Cincinnati, visit our Mass Times calendar HERE.
Learn more about the Triduum by visiting the USCCB website.
Posted April 2, 2015