Student turns CISE experience into bright future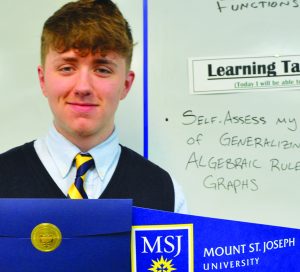 By Walt Schaefer
Devon Steinriede is about to embark on a dream come true to secure the education he so desires.
Steinriede has been awarded Mount St. Joseph University's Achievement Schol-arship, an honor bestowed annually to one DePaul Cristo Rey (DPCR) senior who meets strict eligibility guidelines. He was chosen from seven applicants. The schools are both sponsored by the Sisters of Charity.
It's a "full ride" – tuition, lodging, books and all.
"I want to keep in mind that I need to be financially stable. I may decide on architectural design because I want to do art. I don't know if I want to be a teacher, but I do like graphic design or architecture, coupled with business or management. Career-wise, I'll be versatile. I plan to continue working in college; I work a lot now," Steinriede said.
He attended grade school at Holy Family in Price Hill, one of eight schools supported by the Catholic Inner-City Schools Education (CISE) Fund. As part of DPCR's Corporate Work Study Program, he has job experience at Western Southern Life Insurance, Home City Ice, Paycor, Kroger and, through his own initiative, washed more than his share of cars at a car wash on Central Parkway south of the high school. Steinriede's sister, Salina, was in the school's very first class. His brother, Jesse, is a sophomore, who also has an interest in art.
"It's a tremendous honor and I'm very proud of Devon," said his mother, Eleanor Steinriede. "I have never been prouder of my kids, and I really believe God is the grounding. They have a focus and that makes them better people. I thank God for the Catholic schools in this city. I thank God for my children's lives and the Catholic schools' effect on them every single day."
"If it wasn't for the miracle of Catholic schools, all of my children would never have turned out as well as they have," she continued. "Only because of Catholic ed-ucation have they succeeded. Holy Family was the best school I could have picked for my kids. The people there care. My kids have always felt respected, and Catholic education was a big part of that."
Steinriede's journey to a college scholarship was difficult, largely because of his father's influence on his formative years.
"Devon's father was raised in the poorer sections of Cincinnati," his mother explained. "He had trouble with the law. He had drug addiction issues. He has been in and out of rehabilitation dealing with those drug addictions and everything else.. He is in drug rehab now and drug counsel-ing and is working on getting the help he needs."
"In the middle of it all," she added, "the children went through it, too."
Another blow for Steinriede was the death of his oldest brother, David, who committed suicide. "He was the main rea-son I got into art," he said. "David taught me everything he knew in drawing. He gave me advice – just simple little drawings techniques – and got me to the point I enjoy drawing."
While Steinriede's young life has been a rocky road, he has persevered – his Catholic faith and education the catalyst.
"Devon has wanted to attend the Mount since his freshman year at DePaul Cristo Rey and is interested in studying art. While persevering through his studies and overcoming academic challenges as a DPCR student, he has never lost his focus on making it into college, even though he had expressed concern about how he would pay for college," said Kim Smith, DPCR director of college counseling.
"Devon told me and the scholarship committee that this scholarship would be a life-changing opportunity for him. The committee was impressed with his passion for pursuing higher education and his desire to attend the Mount."
For more on CISE and how you can help, click here