Stuff Luke Carey Found: The Threshold Podcast
"Let's violate a cultural norm. In a time when religious conversations can seem tense or even taboo, we sit down with a different guest each week to talk about their faith (or disbelief), what shaped it, and why it matters." — The Threshold
So begins the 'About' section of The Threshold Podcast, a new show hosted by two friends, Tony Vasinda, a youth minister, and Father Colin Parrish, a Catholic priest. Their listener base contains a broad spectrum of Catholics, evangelicals, atheists, agnostics, former believers, and searchers. The show begins with Vasinda interviewing a guest about his or her story. During the interview Vasinda discusses the guest's faith and why the guests believe what they believe. Vasinda leaves the conversation open-ended, allowing guests to share their experiences without judgement.
After the interview, Father Parrish and Vasinda look for the beautiful, good, and true, and ask what they can take away from the conversation. So often, religious podcasts look for something tidy and packaged. Something to make listeners feel good about themselves and their beliefs. The Threshold Podcast flips this notion on its head. It respects the pilgrim journey all of us partake in, and finds the good regardless of where the guest is on that journey.
Within my own ministry, I start with a simple question: is any of this actually real? Ultimately, our answer to this question can only come from experience and witness. Pope Paul VI states it beautifully in Evangelii nuntiandi (Evangelization in the Modern World), "Modern man listens more willingly to witnesses than to teachers, and if he does listen to teachers, it is because they are witnesses."
What can be more honest than a person's story? You cannot have witness without a story. You cannot have a story without a listener. The desire to evangelize leads many to want tips on how to make evangelization easier. Simple steps to share their faith. These tips often ignore listening. It's easy to write off people whose beliefs differ than mine. Listening involves work. When we listen, the reward is far greater. We can see how God is working in their lives, regardless of what they believe.
The age of cookie-cutter evangelization is over. The era of listening, understanding, and accompanying is here. If you want to see where the world is, to hear the stories of people in the thick of trying to find God, you can do no better than by listening to the Threshold Podcast. It's available on iTunes, Google Play, and pretty much any podcasting app of your choice.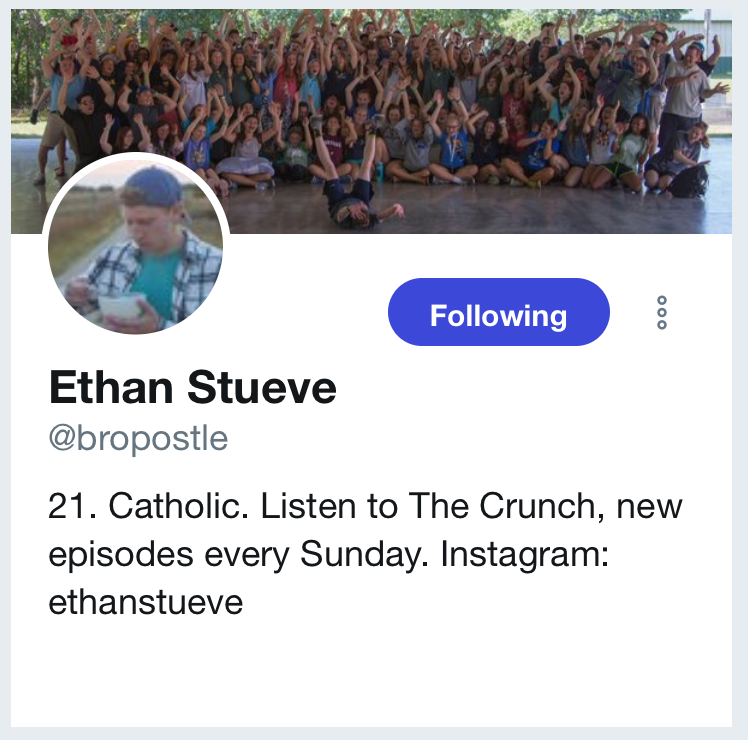 Twitter follow for March:
Ethan Stueve, @bropostle. Ethan is a college student and one half of The Crunch podcast. If you are in college and looking for a good Catholic witness, look no further than Ethan. He's a dynamic Catholic and an entertaining follow.