Posts Tagged
St. Aloysius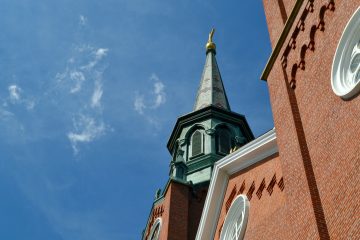 by Susie Bergman Last month we took a broad look at the Land of the Cross- Tipped Churches, a unique scenic byway of churches that pepper the horizon throughout Mercer, Auglaize and Darke Counties. The 33 churches and religious sites still standing are a historical diamond shining among the flat,
By Sarah Anne Carter For The Catholic Telegraph Designated a historical landmark in 1979 as part of the "Cross-Tipped Churches," St. Aloysius in Carthagena commemorated its 150th anniversary in June. The parish building dates back to 1878, but the congregation can date itself back to 1865. "Saint Aloysius is certainly
Wednesday, October 21, 2009 HAMILTON DEANERY — Members of St. Aloysius Parish in Shandon came together for a special Mass on Sept. 27 to mark the faith community's 25th anniversary at its current Chapel Road location.