Good Bones: Series on the History of the Land of Cross-Tipped Churches in the Northern Archdiocese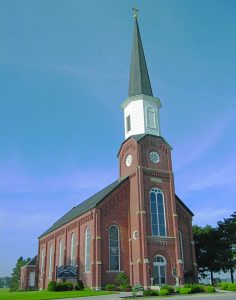 by Susie Bergman
Last month we took a broad look at the Land of the Cross- Tipped Churches, a unique scenic byway of churches that pepper the horizon throughout Mercer, Auglaize and Darke Counties. The 33 churches and religious sites still standing are a historical diamond shining among the flat, fertile farm lands of the area. In this article, we are going to take a closer look at the "bones" of these structures and how their style evolved over many generations. To conduct this journey, I enlisted the help of local historian, Matthew Hess. Hess is the Director of Ministry at Maria Stein Shrine, a structure known as the epicenter of the Land of the Cross-Tipped Churches.
"The bones of these buildings are what makes them famous. Without the work of local architects and contractors such as Goehr and DeCurtins, as well as other more widely known people and firms, the Land of the Cross-Tipped Churches might not have ever had these red brick, cross-tipped gems" said Hess. In the early 1800s, the landscape of this area was very different than it is today. German and French immigrants dealt with swampy ground and dense forests. Buildings, including churches, were constructed close together to make travel easier. First generation churches (1845-1865) were log buildings with a style similar to a basic log cabin. Interestingly, St. John Church in Fryburg is the only church that has retained its original structure and remains completely unaffected.
Second generation churches (1865-1885) were typically small brick, rectangular structures with stout spires. St. Augustine in Minster and St. Michael in Ft. Loramie are the only two churches that still have the original brick sections incorporated into their current structure. The small but beloved Holy Family Church in Frenchtown was built in 1866 by Anton Goehr and still stands today.
An immigrant from Germany, Goehr settled in Minster with his family in 1833 when he was 10-years-old. His father taught him carpentry, later adding design and contracting to his skill set. Goehr worked on 30 churches in the area, including the first two St. John Churches in Maria Stein.
One of the most prolific contractors of the area was Anton DeCurtins. DeCurtins came from Switzerland in 1849 to Cincinnati and eventually settled in Carthegena with his wife and eight children. The DeCurtins were a talented family who designed, built and decorated churches, schools and homes. The family's architectural mark on the area lasted for more than 90 years and spanned many generations. Many family members were skilled in church painting and woodworking, including the construction of pews and organs.
St. Aloysius, their home parish in Carthegena, was built by Anton DeCurtins in 1877. It was a unique design that included a projecting tower and tall spire. This was their first design of many that would follow in the area, and influenced the addition of steeples to many pre-existing simple churches.
Hess noted, "The long spire of this church was a hit. On one level it spoke to older members of the community who would have remembered spires like these in the old country. On another level it was awe inspiring as the spires, which can still be seen for miles around, seemed to reach to the heavens."
Two of the local churches were designed by nationally known architect Adolphus Druiding who came to America in 1865 after studying architecture in his native Germany. The church in St. Henry, an outstanding piece of Victorian Gothic revival architecture, and the
third church in Maria Stein were his designs. Druiding trusted local carpenters, the DeCurtins, to execute his work. These buildings, drawing eyes and souls to heaven, continue to animate the faith of the people.
In the courtyard of Maria Stein Shrine, there is a display of all 33 churches. Additionally, inside the Shrine's Heritage Museum, you can get a closer look at the history of the early settlers and contractors who made this faith-filled area what it is today.
This article appeared in the July edition of The Catholic Telegraph Magazine. For your complimentary subscription, click here.