The Catholic Telegraph Bucket List for March
This month's Bucket List takes you to three places during Holy Week, for Palm Sunday, Holy Week Tuesday, and Good Friday, all of them traditions for more than a century:
Pray the steps at Mount Adams – 175+ years
Palm Sunday dinner at Sacred Heart Church – 100+ years
Cathedral Chrism Mass – a tradition since the early church
Do: Palm Sunday Dinner at Sacred Heart
Sacred Heart – Camp Washington
2733 Massachusetts Ave.
Cincinnati, Ohio 45225
(513) 541-4654
Sacredheartchurchcincinnati.com
Recommended by "Telegraph" staffer Gail Finke. Cooked by members of the parish, and of many Italian societies, from authentic recipes brought to Cincinnati by Italian Catholics, the fall and Palm Sunday Italian Dinners have been a  regional tradition for more than 100 years. People begin lining up before dawn for take-out sauce, ravioli, and meatballs.
The 107th Sacred Heart Palm Sunday Dinner
Sit-down dinners: noon-4 p.m.
Carryout sales begin at 10 a.m.
Palm Sunday Masses:
9 a.m. (English), 11 a.m. (Latin, Extraordinary Form)

Worship: Chrism
Mass at the Cathedral
Cathedral of St. Peter in Chains
325 W. 8th Street
Cincinnati, Ohio 45202
(513) 421-5354
Stpeterinchainscathedral.org
Recommended by: Anne Marie Reames and Glenmary staffer John Stegeman, who said: "Beautiful liturgy. Optional followup: My family tradition was to go to Skyline after!" Every cathedral celebrates an annual Chrism Mass, where the bishop blesses the three oils used in anointings for the coming year.
Nearly every pastor of every parish attends to receive the oils for his church, and many other priests attend with them, because this solemn and joyful Mass also celebrates priesthood.
All the priests renew the promises they made at ordination, and the people promise to pray for them and for their bishops. During the blessing of the oils, the bishop breathes on the chrism (a special, scented oil) to recall Christ breathing on His disciples and sending forth the Holy Spirit.
This year's Archdiocese of Cincinnati Chrism Mass will be at 7 p.m. on March 27.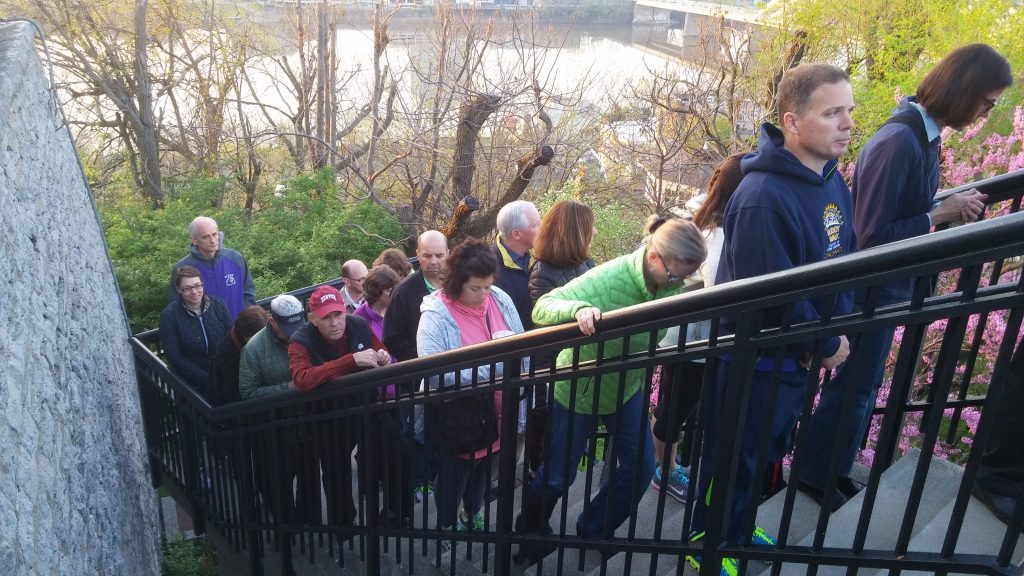 Go: "Pray the Steps" on Good Friday
Holy Cross-Immaculata
30 Guido Street
Cincinnati, Ohio 45202
(513) 721-6544
2011.hciparish.org
Recommended by: many, including former St. Ursula Academy Principal Judy O'Donnell. In the mid-1800s, Archbishop Purcell asked Catholics to pray for his plan to build a shrine to the Virgin Mary on Mt. Adams. People began praying on the hillside while the church was being built and, after 1859, gathering to pray on its original steps. Eventually the custom developed into a Good Friday observance, and for many decades, people have come from around the region to walk up the steps, praying the rosary or other prayers.
Bishop Joseph R. Binzer will bless the steps at one minute after midnight, March 30. The church will be open for confession all day, and for prayer until midnight. Good Friday services will be held at 2 p.m. and 7 p.m., and the parish offers hungry pilgrims coffee and donuts from 6 a.m.-1 p.m., pizza and Kona Ice throughout the day, and a fish fry from 3 p.m-7 p.m.
Click here to download a Bucket List page to print out: Bucket list 3 2018
Suggest an item for our Bucket List! Email your suggestions to [email protected].