The Catholic Telegraph's 2013 Festival Guide is here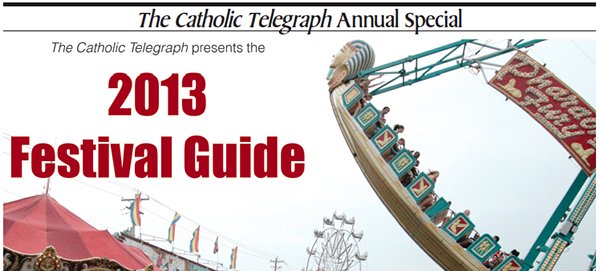 Staff Report
Summer is a time of fun outdoor activities and in the Archdiocese of Cincnnati, it is also a chance to support local Catholic parishes.
With that in mind, The Catholic Telegraph has published its annual 2013 Festival Guide, detailing the dates, times, places and amenities you can expect at 90 area parish festivals this summer and beyond.
Click here to see the 2013 Festival Guide
This year's church festival guide is organized by weekend and will be updated each week to show the festivals for the upcoming weekend at the top of the page. An interactive map will also display the locations of the festivals for the upcoming three weeks.
Admission, parking and food at local amusement parks can cost more than $200 easily for a family of four, but admission to parish festivals is free. Moreover, for many Catholic parishes the summer festival is among their biggest yearly fundraisers. The rides may be a bit smaller but the food and drinks are much more affordable. The knowledge that you're family's fun day out is supporting the missions of a local parish, however, is priceless.
Festivals have something for everyone. Parents with children can enjoy watching kids on the rides, younger couples may enjoy a church festival as a date night and adults of all ages can enjoy the bingo, poker, bid & buy and more.
So get your calendar ready and click on over to The Catholic Telegraph's 2013 Festival Guide. If you would like a print copy of the 2013 Festival Guide, click the link and scroll to the bottom of the page for instructions.