The Catholic Telegraph's October edition is largest in recent history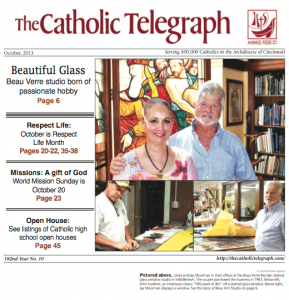 Staff Report
Special sections on Respecting Life, Missions and high school open houses, in addition to the usual lineup of outstanding features, news and commentary, add up to a 56-page October edition of The Catholic Telegraph. The high page count marks the largest edition of the newspaper since The Catholic Telegraph became a monthly paper in September of 2011.
The cover story focuses on the Moormans, owners of a stained glass company that serves as workshop, restaurant, museum and conference center.
The issue features a letter from Archbishop Dennis M. Schnurr on the importance of the Pontifical Mission Societies as news on the archdiocesan pastoral council, immigration reform, St. Susanna's parish anniversary, the Athenaeum and more.
October's edition includes two book reviews, in addition to the Family Life Activities page which shares tips for how to have 'Holy Halloween.'
Sports fans may enjoy a story about a Louisville-based company, SportsLeader, that is helping to make youth athletics in this archdiocese more focused on faith. There's also the moving story of Lucas Pfander, a young Chaminade Julienne student whose death several years ago continues to inspire those he left behind.
The October edition of The Catholic Telegraph should reach mailboxes Thursday, Sept. 26. To receive this, and future editions of The Catholic Telegraph, at no personal cost, email Greg Hartman or call 513-421-3131 extension 2215.
Founded in 1831, The Catholic Telegraph is among the oldest Catholic newspapers in the United States. It is the official newspaper of the Archdiocese of Cincinnati, reaching more than 150,000 homes each month.