The Elite Octave: How it would look if Catholic colleges won all their NCAA tournament games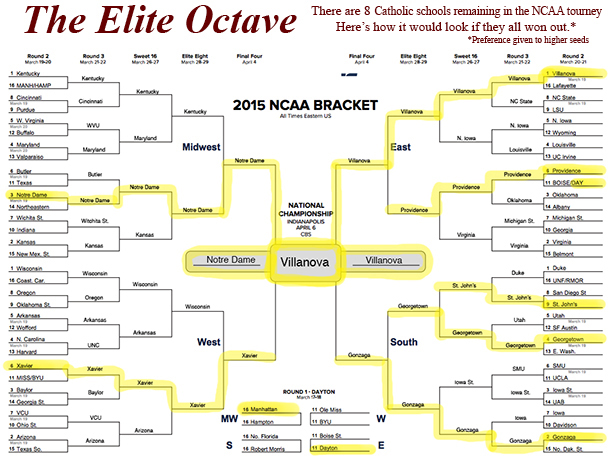 Staff Report
With the first two of the "First Four" games officially in the books March Madness (Martius Furor for Latin lovers) is officially under way.
People all over the United States are still filling out brackets prior to the start of the second round games, which begin tomorrow. Some pick brackets based on seeding, some based on their basketball knowledge and still others on which team has their favorite jersey color. But what would it look like to pick a bracket based solely on a school's Catholic affiliation?
The staff at The Catholic Telegraph took a glance at the NCAA bracket, finding nine universities with Catholic affiliations. With Manhattan already eliminated,  they dubbed the remaining teams the "Elite Octave." The bracket accompanying this post shows the remaining Catholic schools winning out their tournament runs, with preference given to the higher seed whenever two Catholic schools face-off.
For all games involving non-Catholic schools, preference in this bracket is given to the higher seed.
It might take a bit of divine intervention, but an all Catholic Final Four is still a possibility. It would require a tremendous run by No. 6-seed Xavier, and No. 3-seed Notre Dame would need to topple unbeaten Kentucky. It wouldn't surprise many fans to see Villanova (a No. 1-seed) and second-seeded Gonzaga make it to the semi-finals.
The last Catholic university to win the NCAA Tournament was Villanova in 1985.
The two Catholic NCAA Division I universities in the Archdiocese of Cincinnati, Xavier and potential No. 11-seed Dayton are in opposite brackets and would only face-off by making the finals. Dayton faces Boise State in a "First Four" contest tonight at home.
Posted March 18, 2015