THE JOHN 10:10 LIFE
Christmas is drawing to a close and with it the months-long holiday season. I admit that though I miss Thanksgiving, the joyful anticipation of Advent and the blessed Christmas season, my childlike giddiness lingers into January because it brings my birthday – and I absolutely love my birthday.
Balloons, my favorite foods and Broadway soundtracks typically make up every 8th of January, and though my family eagerly tends to any Birthday Person's whim and wish, each year I find I want one thing more than any other.
THE JOHN 10:10 LIFE

"I came that they might have life and have it to the full," Jesus said. The full. If I examine who God made me to be, I get a glimpse of this abundant life He mentions.
Above everything else, God made us in His image, which means a full life is one that imitates Christ. The Triune God is a community, so we're made to live with each other and work together for good. For us family folk, that means praying as individuals, praying with our spouses and praying with our families so we can know the One we're called to imitate. Without this essential piece, life is deflated and more difficult. Striving to resemble Jesus affords peace and clarity that the world can't give.
TRUST YOUR SENSES

The Lord also gave us senses to experience the world more fully. Considering them directly points to the John 10:10 life because every one of them is meant to be filled with the beauty of God's creation. Whether it's a roaring Icelandic waterfall or the feel of my 4-year-old's little hand, what my senses receive is what God has fashioned in the world and what He meant for us to experience.
So what do I hope for you? Go fill your senses with what delights you! Beautiful scenery, thrilling music, or a favorite meal ordered just for you. Whatever it is, delight in God's creation and thank the Author of All Things for blessing you with such abundance.
MASS FOR SALVATION

Most definitely on my birthday list is a Mass said for my salvation. Typically Masses prayed for a living individual are offered for his or her intentions, which is wonderful and worthy of prayer, but I hope for a Mass said specifically for me going to Heaven. Not only do I ache for the joy of being with our Lord and His lovely Mother, but also being with my daughter who I miscarried years ago, and who I know is our constant intercessor. I can't conceive the sheer delight in meeting her face-to-face.
ABUNDANT GRACE

The last item on my birthday list is grace to see time for what it is: a gift from God to deepen my intimacy with Him; and in so doing, reflect Him as I go about my life. The desire for stuff in general is long gone, and I've learned that more valuable and precious than anything else is the time I have on earth. It's now that I have with my husband and our children, that I have with friends and that I have to dream up how to spend the rest of my days. Be they many or few, I want to spend them reaping what the Lord has sown and what He has to offer.
St. Therese of Lisieux said "The world is thy ship, not thy home." It's become such an important statement in our house. My husband and I remind ourselves and our kids to delight in what is created, but to live for what is to come.
The things of this world are passing. What goes on and on without fading is God, Who every day calls me closer to Him and grants me the opportunity to draw closer to eternal life.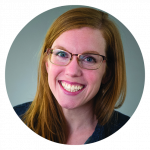 Katie Sciba is a national speaker and Catholic Press Award- winning columnist. Katie and her husband, Andrew, have been married for 14 years and are blessed with six children.
This article appeared in the January 2022 edition of The Catholic Telegraph Magazine. For your complimentary subscription, click here.