Throwback Thursday: A Church for Our Lady's Birth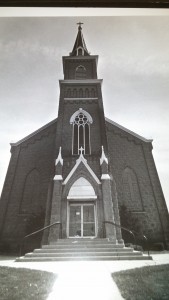 By Sarah Patterson
September 8 marks the Feast of the Nativity of the Blessed Virgin Mary, her Immaculate Conception having been celebrated nine months prior. Many churches are given various titles to Our Lady, but one alone in the Archdiocese of Cincinnati is dedicated to her birth. This is St. Mary, Nativity of the Blessed Virgin Mary Church in Cassella, Mercer County.
Missionaries of the Precious Blood have chiefly been the main ministers of St. Mary, Nativity of the Blessed Virgin Mary Church. In the early years, diocesan priests would sometimes attend the needs of the parishioners, predominately German immigrants. The Catholic Church in St. Henry, Ohio was founded in 1839 and the church in St. Rose, Ohio, was founded in 1844. Three years after this, residents of Cassella who attended either church, requested a church in their own town. 1847 is the year of the founding of the mission St. Mary, as that is the date of the first recorded baptism. At this time there were approximately 1,100 persons living in Mercer County. The log chapel, called Maria-Kapelle, soon became too small and a new church was necessary.
As a side note, the town was originally called "Kappelle," after the title given to the small mission chapel. When the townspeople wrote to Washington D.C., the postal authorities misread the name, thinking it was written in German script. And so, Kappelle became Cassella.
Gruenwald Convent was built in 1854, just half a mile from Cassella, to be the home for the members of the Missionaries of the Precious Blood. While on a tour of Auglaize and Mercer Counties in August 1862, Bp. Sylvester Rosecrans visited and dedicated the new chapel.
For more of the story on St. Mary, Nativity of the Blessed Virgin Mary, go to http://www.catholiccincinnati.org/93949/a-church-for-our-ladys-birth/
Welcome to Throwback Thursday, an online feature wherein users of social media share an old photo or anecdote about times gone by. The Catholic Telegraph partners with the Archdiocese of Cincinnati Chancery Archives' blog Laboring on the Mission to bring you a bit of local history each week.