Throwback Thursday: Advent as artwork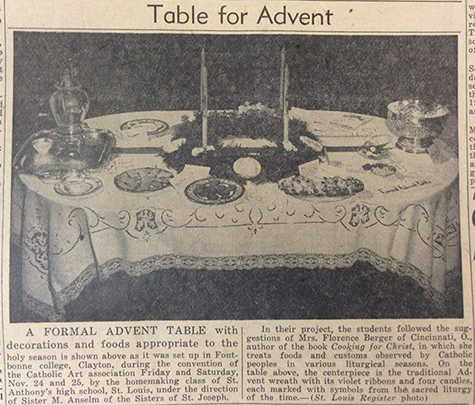 The first candle of Advent 2015 has been burning for a few days and as the season of joyful anticipation begins, the Throwback Thursday team brings you the attached photo.
From a 1950 edition of The Catholic Telegraph, seen here is a formal table setting with decorations and foods appropriate to the holy season of Advent. This one was set up at Fontbonne College in Missouri by students during a convention of the Catholic Art Association. The students were members of the homemaking class at St. Anthony high school in St. Louis under the direction of Sister M. Asselm of the Sisters of St. Joseph.
For the project, the caption reports, the students used the suggestions of Mrs. Florence Berger of Cincinnati. Author of the book Cooking for Christ, which examines foods and customs observed by Catholics in various liturgical seasons.
The photo originally came from the St. Louis Register.
Welcome to The Catholic Telegraph's edition of Throwback Thursday. Throwback Thursday is a weekly online feature wherein users of social media share an old photo or anecdote about times gone by. We use Throwback Thursday to highlight the history of the Archdiocese of Cincinnati, and our publication.
Recent Throwback Thursdays
And now bless the God of All
So long and thanks for all the fish
Youth and the Body of Christ
Remembering Lauren Hill
Looking back and moving forward with a new website