Throwback Thursday: Archbishop Bernardin makes Chicago Tribune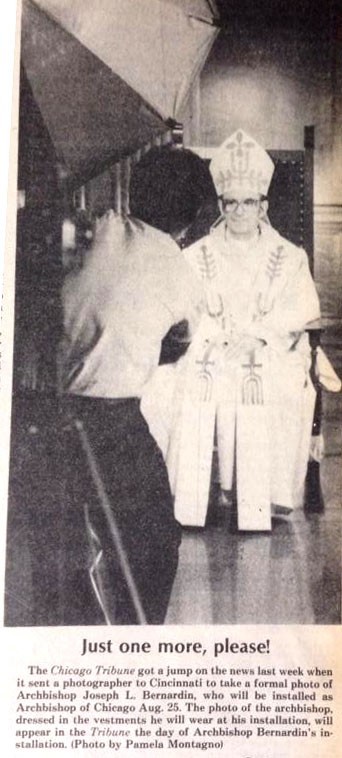 Staff Report
By the time the August 13, 1982 edition of The Catholic Telegraph was delivered, the appointment of then-Archbishop of Cincinnati Joseph L. Bernardin as Archbishop of Chicago was beginning to set in locally.
Archbishop Bernardin was in his 10th year as archbishop here when the news broke, and the popular archbishop was set to be missed by many.
The August 13, 1982 edition of The Catholic Telegraph featured a stand-alone photo the future cardinal, dressed in the vestments he would wear at his installation two weeks later in Chicago on Aug. 25, being photographed by a member of the Chicago Tribune. 
The full text of the caption reads:
Just one more, please!

The Chicago Tribune got a jump on the news last week when it sent a photographer to Cincinnati to take a formal photo of Archbishop Joseph L. Bernardin, who will be installed as Archbishop of Chicago Aug. 25. The photo of the archbishop, dressed in the vestments he will wear at his installation, will appear in the Tribune the day of Archbishop Bernardin's installation. (Photo by Pamela Montagno)
Less than two years later, Archbishop Bernardin became a cardinal. Cardinal Bernardin served the Archdiocese of Chicago until his death from pancreatic cancer in 1996.
Welcome to The Catholic Telegraph's edition of Throwback Thursday. Throwback Thursday is a weekly online activity wherein users of social media share an old photo or anecdote about times gone by. We plan to use Throwback Thursday to highlight the history of the Archdiocese of Cincinnati, and our publication.
Posted Sept. 18, 2014