Throwback Thursday: Birth of a Papacy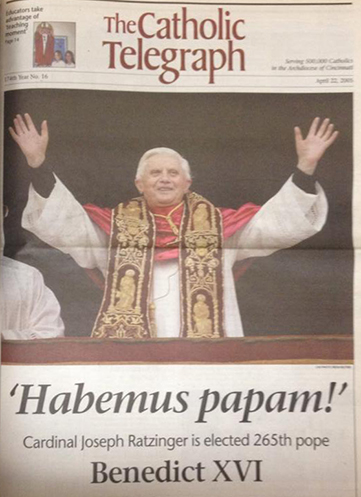 Staff Report
April 16, 1927 was Holy Saturday that year. A Bavarian police officer and his wife had just delivered their third and youngest child. His name was Joseph Ratzinger.
Today is Pope Emeritus Benedict XVI's 88th birthday and by providence, his papacy began three days after his birthday in 2005. April 19 will mark 10 years since his election to the Petrine office.
Today's Throwback Thursday features the cover of the April 22, 2005 edition of The Catholic Telegraph, showcasing a robust and energetic looking Benedict XVI upon his introduction to the world as Pope.
Even before his election to the papacy, Time magazine had named him one of the world's most influential people. His writings on Jesus' life and other topics were extensive and he made history in February of 2013 by becoming the first pope to resign since Pope Gregory XII in 1415.
Moments after the photo seen above was taken, the new pope greeted the crowds with the following message.
"Dear brothers and sisters, after the great Pope John Paul II, the Cardinals have elected me, a simple, humble labourer in the vineyard of the Lord. The fact that the Lord knows how to work and to act even with insufficient instruments comforts me, and above all I entrust myself to your prayers. In the joy of the Risen Lord, confident of his unfailing help, let us move forward. The Lord will help us, and Mary, His Most Holy Mother, will be on our side. Thank you."
Since his resignation, Benedict XVI has remained mostly out of the public eye, appearing in public several times by request of the present Holy Father, Pope Francis.
Happy birthday Pope Emeritus!
Welcome to The Catholic Telegraph's edition of Throwback Thursday. Throwback Thursday is a weekly online activity wherein users of social media share an old photo or anecdote about times gone by. We use Throwback Thursday to highlight the history of the Archdiocese of Cincinnati, and our publication.
Recent Throwback Thursdays
A Tower of Faith
The Death of John Paul II
Archbishop Elder's Sick Call Box
When Dayton won it all — sort of
Bishop on a bulldozer

Posted April 16, 2015