Throwback Thursday: Catholic Press Month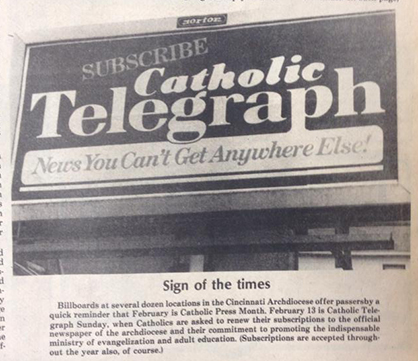 Staff Report
The Throwback Thursday team apologizes in advance for being a bit self-referential, but today's posting comes in the first week of Catholic Press Month. As the official Catholic newspaper of the Archdiocese of Cincinnati, The Catholic Telegraph has been the main Catholic press in this region for nearly 200 years.
Founded Oct. 22, 1831 by Bishop Edward Fenwick, our original coverage area ranged from Kentucky to northern Michigan. Today, we cover all 19 counties of the archdiocese in southwestern Ohio. (For those keeping score at home, that makes us 183 years, three months and 14 days old and we cover an area including roughly a half million Catholics.)
To learn more about the history of The Catholic Telegraph, click HERE.
We presently serve 148,000 print subscribers per month and provide, as the billboard in the above photo claims, news you can't get anywhere else. The Catholic Telegraph is the official source of communication between Archbishop Dennis M. Schnurr and the faithful, keeping you abreast of his initiatives and the work of the church.
At our founding, The Catholic Telegraph was a traditional news-style publication. These days we continue to report the news of the day via this website, while our print publication often focuses on feature stories about the faithful, commentaries, and the good work being done here in the name of Jesus Christ and his Church.
The Catholic Telegraph, and the Catholic press throughout the United States and the world, serve as a direct line from the church's leaders to its people. The best way to support Catholic media is to use it. Thanks for continuing to read this website and we invite you to consider becoming a subscriber.
To subscribe to The Catholic Telegraph's monthly print edition at no personal cost, click HERE.
Welcome to The Catholic Telegraph's edition of Throwback Thursday. Throwback Thursday is a weekly online activity wherein users of social media share an old photo or anecdote about times gone by. We use Throwback Thursday to highlight the history of the Archdiocese of Cincinnati, and our publication.
Recent Throwback Thursdays
Basketball Bishop
Supporting life in every age
History of a famous clock
See the Top 10 stories of 2014
Archbishop Emeritus celebrates 40 years as bishop
Posted Feb. 5, 2015