Throwback Thursday: Catholic school grad Griffey Jr. makes Hall of Fame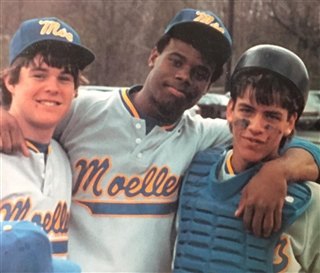 Ken Griffey Jr., former Cincinnati Red and Seattle Mariner, has been inducted into the National Baseball Hall of Fame with a record 437 of 440 votes.
Today's #ThrowbackThursday is dedicated to Griffey Jr., one of Cincinnati's most famous Catholic high school graduates.
Though a native of Pennsylvania, Griffey Jr. and his family moved to Cincinnati when he was a young boy and his father, Ken Griffey Sr., played for the Cincinnati Reds. After attending a variety of local schools Griffey Jr. attended  and graduated from Archbishop Moeller High School.
Griffey played only two years for the Crusaders, but he remains one of the Archdiocese of Cincinnati Catholic high schools' most famous alumnus.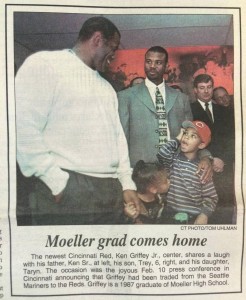 While Cooperstown is may be the pinnacle of Hall of Fames, Griffey Jr. is no stranger to similar honors. The 1987 Moeller grad was inducted into his high school hall of fame in 1993 and was inducted into the Seattle Mariners Hall of Fame in 2013. A year later he joined the Cincinnati Reds Hall of Fame.
Moeller High School President Marshall Hyzdu released the following statement Jan. 6 upon Griffey Jr.'s induction.
"The #MoellerFamily celebrates today as one of its family members is honored for his great accomplishments in baseball," Hyzdu wrote on Moeller's website. "Ken Griffey Jr's success on the baseball diamond is only matched by his class and professionalism off the field. He exemplifies what it means to be a Man of Moeller. It's a great day to be a Crusader! #HOF#HOF2016"
While The Catholic Telegraph's role isn't one of sports coverage, Griffey Jr.'s momentous homecoming nearly 15 years ago was noted on the front page of the Feb. 18, 2000 edition. The photo from that edition is seen with this post.
Moeller is known for its football prowess, but the baseball program is notable too. Griffey Jr. is the school's second graduate to reach the Major League Baseball Hall of Famer after Barry Larkin (Class of 82). The Cincinnati Enquirer reported Thursday that Moeller is one of only seven schools to claim two hall of famers.
While Griffey Jr.'s tenure in Cincinnati was marked by injury and reduced production, the Throwback Thursday staff congratulates this Catholic school grad on the announcement of his induction to Cooperstown. Well played Cincinnati Kid, well played.
More on Griffey Jr.
Dayton Daily News: The Moeller Years
Welcome to The Catholic Telegraph's edition of Throwback Thursday. Throwback Thursday is a weekly online feature wherein users of social media share an old photo or anecdote about times gone by. We use Throwback Thursday to highlight the history of the Archdiocese of Cincinnati, and our publication.
Recent Throwback Thursdays
Top 10 stories of the 1980s
Caroling with The Catholic Telegraph
Happy Birthday Holy Father
Teaching children the meaning of Advent
Advent as Artwork