Throwback Thursday: Farewell to the Catholic Chronicle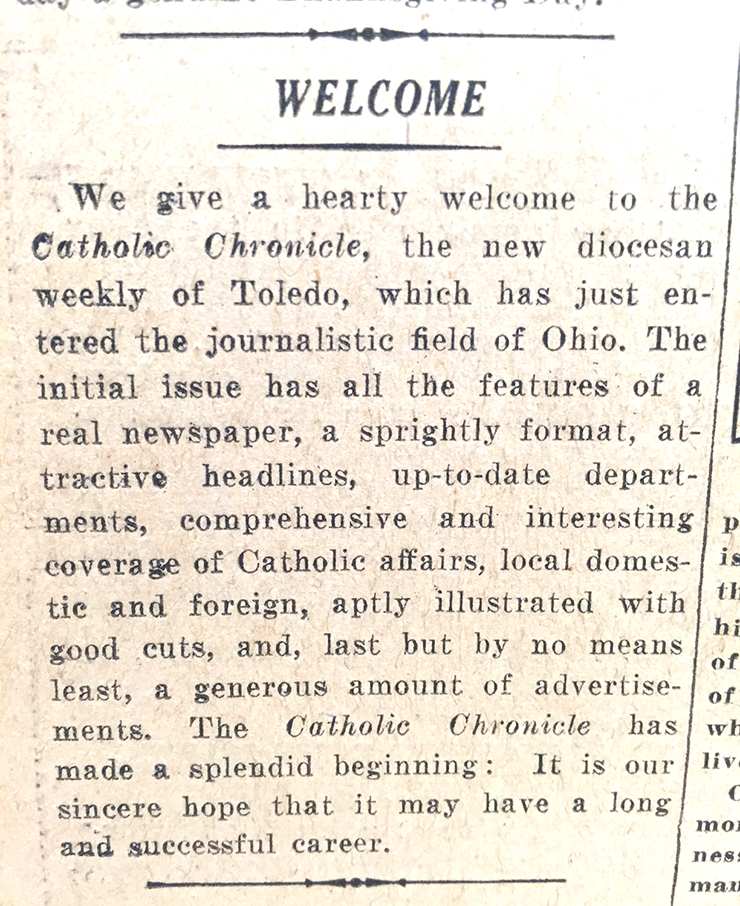 In the November 29, 1934 edition of The Catholic Telegraph, this publication welcomed the creation of the Catholic Chronicle, the diocesan newspaper of the Diocese of Toledo.
The Catholic Chronicle published it's first issue on Nov. 23, 1934 and according to The Catholic Telegraph's report, "The Catholic Chronicle has made a splendid beginning: It is our sincere hope that it may have a long and successful career."
That career comes to an official end tomorrow. Facing a deficit of more than $1 million, the Diocese of Toledo announced the February edition was the Chronicle's last. The newspaper's website has been taken down and now redirects to the Diocese of Toledo site and it's Twitter account has been made private.
The Catholic Chronicle was founded then-Bishop Karl J. Alter, who 16 yeas later became Archbishop of Cincinnati. It has served the Diocese of Toledo for almost 82 years.
As The Catholic Telegraph staff nearly 82 years ago wished the Catholic Chronicle a hearty welcome, the Throwback Thursday team now offers its best wishes to the Chronicle staff and to the Diocese of Toledo going forward.
Welcome to The Catholic Telegraph's edition of Throwback Thursday. Throwback Thursday is a weekly online feature wherein users of social media share an old photo or anecdote about times gone by. We use Throwback Thursday to highlight the history of the Archdiocese of Cincinnati, and our publication.
Recent Throwback Thursdays
McDonald's Fish sandwiches started here
Consider getting the print edition
New computers, same mission
Remembering the Challenger
Fighting Roe vs. Wade in Year One