Throwback Thursday: September 11, 2001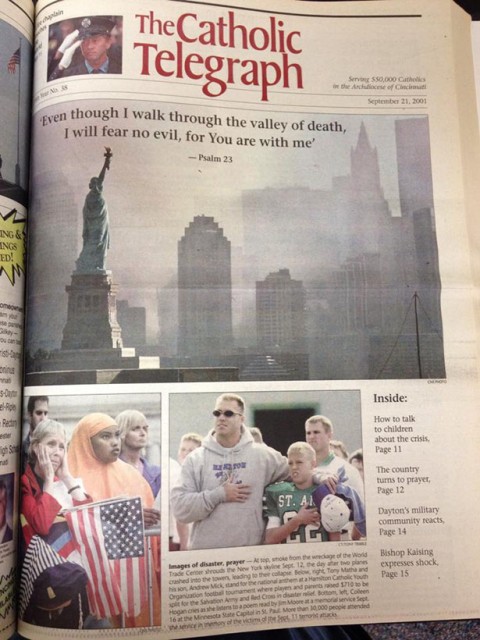 Staff Report
The events of September 11, 2001 are burned into the memories of all Americans alive at the time. For arguably the first time in world history, a major international tragedy took place under the watch of a 24-hour news cycle.
Millions of Americans tuned in just in time to find out that the situation that morning was worse than they thought. Replay after replay showed planes crashing, towers burning, smoke rising and people suffering. In the days that followed, newspapers around the world struggled to convey information about a profoundly serious, but also emotional event.
Today's Throwback Thursday takes a look at the Sept. 21, 2001 edition of The Catholic Telegraph.
The cover shows a smoke-and-dust-filled skyline of a still reeling New York City overlaid with the comforting words of Psalm 23 —"Though I walk through the valley of of death, I will fear no evil, for you are with me."
The edition featured an exclusive interview with Bishop John Kaising, then the auxiliary bishop of the MIlitary Archdiocese, as well as a special feature on New York fire chaplain Father Mychal Judge, one of the first identified victims in the aftermath of the attack.
Locally, Archbishop Daniel E. Pilarcyzk held a press conference on the afternoon of the attacks. The now-Archbishop Emeritus said the "potential for human evil is practically limitless," but he added that, "Evil is never going to be the last word. That's what the resurrection of Jesus teaches. Life and goodness have the last word, not evil."
A report from the edition said that thousands of Cincinnatians gathered at Fountain Square a few days later on Sept. 14 to pray in an interfaith show of solidarity.
Posted Sept. 11, 2014
Welcome to The Catholic Telegraph's edition of Throwback Thursday. Throwback Thursday is a weekly online activity wherein users of social media share an old photo or anecdote about times gone by. We plan to use Throwback Thursday to highlight the history of the Archdiocese of Cincinnati, and our publication.