Throwback Thursday: Teaching children the meaning of Advent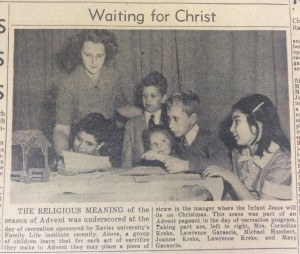 Continuing our look at Advent from the CT's back issues, this Throwback Thursday looks into the past but has a family activity aspect.
Pictured here, from the Dec. 12, 1942 edition of The Catholic Telegraph-Register, are several youths and an adult teaching them the religious meaning of the season of Advent. The children were attending a day of recreation at Xavier University's Family Life Institute.
The children are pictured looking at a creche or nativity setup and are told that for each act of sacrifice they make in Advent, they may place a piece of straw in the manger where the figure of the infant Jesus will lie when placed there on Christmas.
The scene pictured was part of an Advent pageant. From left to right those pictured are Mrs. Cornelius Kreke, Lawrence Garascia, Michael Humbert, Joanne Kreke, Lawrence Kreke and Mary Garascia.
Adding straw to the nativity can make a great family activity to teach children about Advent even 73 years later.
Welcome to The Catholic Telegraph's edition of Throwback Thursday. Throwback Thursday is a weekly online feature wherein users of social media share an old photo or anecdote about times gone by. We use Throwback Thursday to highlight the history of the Archdiocese of Cincinnati, and our publication.
Recent Throwback Thursdays
Advent as Artwork
And now bless the God of All
So long and thanks for all the fish
Youth and the Body of Christ
Remembering Lauren Hill