Throwback Thursday: Youth and the Body of Christ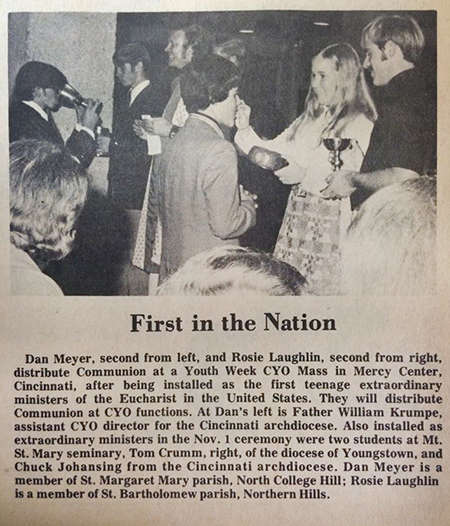 Staff Report
In 1969 the church document Fidei Custos set down the conditions under which a lay person who was also not an acolyte could assist in the distribution of the Eucharist as an Extraordinary Minister of Holy Communion. In 1972, the first U.S. teenagers ever granted that extraordinary permission were members of the Archdiocese of Cincinnati.
This Throwback Thursday pulls a brief from the Nov. 10, 1972 edition of The Catholic Telegraph. In the photo attached, then-teenagers Dan Meyer and Rosie Laughlin are seen distributing Holy Communion on Nov. 1 of that year at a Youth Week CYO Mass at Mercy Center. The cutline reports that the duo were the first teenage Extraordinary Ministers of Holy Communion in the United States. Two others, students at Mount St. Mary's Seminary, were installed in that position at the same Mass.
The brief article states that the duo would distribute Holy Communion at CYO functions in the Archdiocese of Cincinnati.
The Throwback Thursday staff attempted to track the pair down, 43 years later, to ask about the experience, but was unsuccessful.
The short article provides little context on Extraordinary Ministers of Holy Communion, but the practice remains in use today. Guidelines and additional information about the practice may be found at the U.S. Conference of Catholic Bishops website.
Welcome to The Catholic Telegraph's edition of Throwback Thursday. Throwback Thursday is a weekly online activity wherein users of social media share an old photo or anecdote about times gone by. We use Throwback Thursday to highlight the history of the Archdiocese of Cincinnati, and our publication.
Recent Throwback Thursdays
Remembering Lauren Hill
Looking back and moving forward with a new website
The Catholic Telegraph turns 184
Supporting the Missions, then and now
Journalism education starts early
One more look at the papal visit
Posted Nov. 12, 2015