"To me, football meant soccer" Ugandan seminarian finds long-ago sponsors in the NFL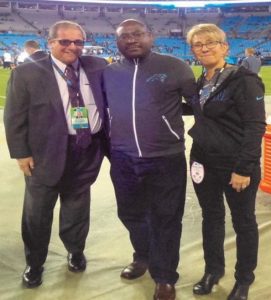 Elias Mwesigye was in for a shock when he found his long-lost benefactors.
As a student in Uganda, Mwesigye received a tuition sponsorship from a U.S. couple, "Dave and Joanne," via a children's fund. He and the couple exchanged letters through fund managers, so he never had their direct address and lost touch when the tuition program folded abruptly.
A little more than a year ago, Mwesigye—a seminarian at Mount St. Mary's Seminary of the West in Mt. Washington—decided to search the internet for his onetime sponsors. He knew their last name, Gettleman, and remembered that the husband had been a football coach. "To me, as a boy, football meant soccer," he said. "I didn't know about American football."
Mwesigye found a Dave Gettleman who was indeed involved with football: He was in charge of a team that was headed to a Super Bowl.
The Dave Gettleman in question is general manager of the Carolina Panthers. Mwesigye emailed to ask whether he was the former sponsor., and Gettleman replied immediately."After so many years!" Mwesigy said "He said,'Yes I'm the one,." The Panthers lost last year's Super Bowl, but they won the midseason game Mwesigye attended with Gettleman the following autumn. "In November he gave me a ticket," Mwesigye said. "I went to a game with him in the box."
The Gettlemans also took Mwesigye on a tour of the stadium before the game. The first player he met was Panthers linebacker and Cincinnati native Luke Kuechly, the St. Xavier High School graduate who was the ninth-overall pick in the 2012 NFL draft and, at age 22, the youngest-ever recipient of the NFL Defensive Player of the Year Award. (Unfortunately, Kuechly would
suffer a vicious concussion during that night's game.) St. X sits in St. Bartholomew parish, Springfield Township, where Mr. Mwesigye is serving his seminary internship and where Kuechly's grandmother was a longtime parishioner.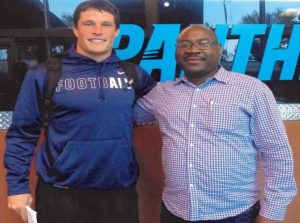 "He asked me if I had brought Skyline Chili for my friends and I told him I had," Mwesigye recalled.
Now 40, Mwesigye is a missionary of more than chili. Although people tend to think of missions as issuing from the West, a reverse phenomenon has occurred as vocations grow stronger in developing countries.
"The missionary goes where there's a spiritual need," Mwesigye said, recalling Pope Paul VI's 1969 visit to Uganda, the first African trip by any reigning pope. "He said Africans must be missionaries to ourselves and to the whole world. He told us we must be prepared to evangelize."
The youngest of six siblings, Mwesigye grew up in a Catholic home—walking five miles to church every Sunday—and attended a Catholic boys school. An Irish nun with the Daughters of Mary and Joseph established the tuition fund that paired him with the Gettlemans. The couple was childless at the time, and "I became a foster son for them," Mr. Mwesigye said. "But then one day I was informed that the project was closing and couldn't help me."
He went on to a high school seminary run by the Apostles of Jesus Missionaries and then entered St. Thomas Aquinas Katigondo Major Seminary, but then family tragedies created other obligations. His parents and four of his siblings passed away, leaving his surviving brother to support their nieces and nephews. "I talked to the archbishop, saying I had to leave the seminary to help my brother" he recalled. "The archbishop said 'If it's God's will that you be a priest, then you will come back.'
After several years working as a social worker for a Catholic hospital, he met Father Greg Bramlange, a priest from Covington, Ky., who had come to Uganda with the Missionaries of the New Evangelization. Mwesigye told Father Bramlage that he'd been a seminarian, but was now interested in missionary work. "I asked about vocations in the United States and was told that there was a shortage," Mwesigy said. "I said 'maybe I should go to the U.S.'"
The two corresponded and eventually, after Mwesigye remained sure of his vocation, Father Bramlage spoke to Archbishop Dennis M. Schnurr about him and another man from Uganda, Alex Biryomumeisho, who had been turned away from his local seminary because it was full.
Father Kyle Schnippel, who was then the vocations director for the archdiocese, tried to arrange for them to come to Cincinnati for interviews, but couldn't get them visas. So he traveled to Uganda with seminary Rector Father Benedict O'Cinnsealaigh to meet with both men. "We extended them an invitation," Father Schnippel said. "They were both very articulate and expressed a sincere desire for the priesthood."
Mwesigye and Biryomumeisho, who is now 33, are on track to be ordained in 2019. After Mwesigye's ordination, he plans a trip to Uganda to celebrate Mass on June 3, feast of the Ugandan Martyrs. But he's committed to remaining in southwestern Ohio as a diocesan priest.
"If I go back to live in Uganda, it will be when I retire," he said. "I found that people in Cincinnati, those who are committed, they really love the Faith."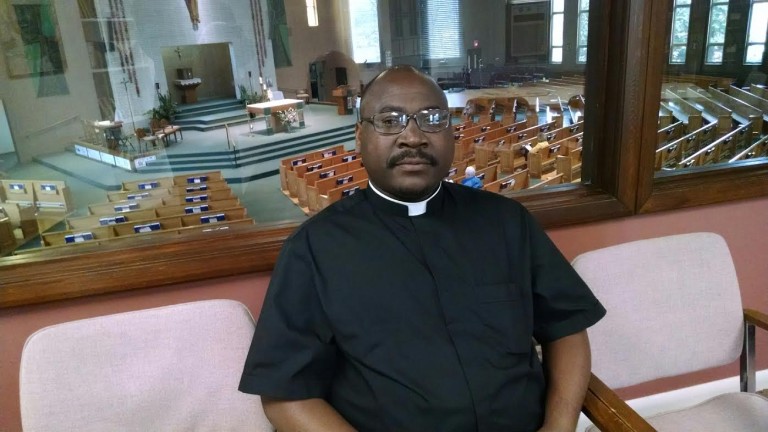 ---