Tornado Recovery Efforts Continue in Dayton and the North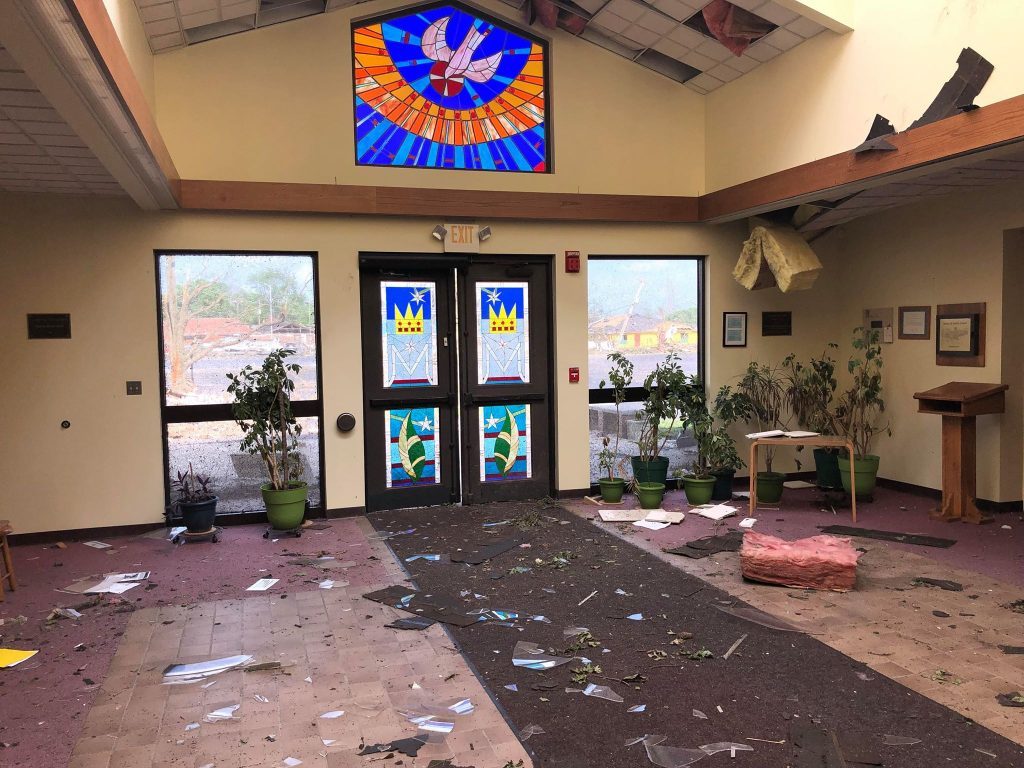 By Eileen Connelly, OSU
Weeks after the May 27 tornadoes that tore through Dayton and areas north of the city, recovery efforts remain in full force with local faith-based organizations taking a leading role.
"This is where Catholic social service agencies such as Catholic Social Services of the Miami Valley and St. Vincent de Paul (SVdP), along with numerous other charitable organizations such as Our Home Family Resource Center, play such a vital role," said Archbishop Dennis M. Schnurr immediately following the tornadoes. "I am deeply grateful for the women and men who work in these agencies to serve their sisters and brothers in distress."
"Please join me in praying for all of our sisters and brothers who have been impacted by these events," he added. "May the Blessed Virgin Mary intercede for them and may the Holy Spirit give them courage and hope as they rebuild their lives."
Laura Roesch, CEO of Catholic Social Services of the Miami Valley, based in Dayton, said that with the immediate needs of area residents addressed, their focus, in collaboration with other agencies, is a "cohesive, long-term recovery plan. With the tornadoes not at the top of the news anymore, it's important to remember that recovery will be a long process. Those impacted will need support for years to come."
Many of the hardest hit areas were already struggling, Roesch noted. "The tornado had a wide impact zone — Dayton, out to Beavercreek, north to Celina and in Mercer County — those are service areas, too. Many of the impacted neighborhoods have highly dense populations and a lot of families living paycheck to paycheck, many older homes, and apartment complexes."
As such, long-term housing is a primary focus for the agency, along with continuing to provide food assistance, household items and other practical needs. Long-term case management assistance is also planned.
"Every family's situation is different, so we're really being flexible and working with other community resources to have the greatest impact," Roesch said. "We're really grateful to the archdiocese for the immediate support. To be able to address peoples' needs so quickly was a great blessing."
She also expressed gratitude for the support of community members who have come forward to donate, volunteer and organize food and supply drives. "This has been a very personal experience for anyone who cares about the region. It's been really heartwarming to see how people have stepped up."
One example is St. Helen Parish in Riverside where festival organizers pledged to donate 10 percent of net profits to tornado relief efforts. Official attendance was not counted for the event, but parish staff say there was record attendance. The final donation amount was not available at press time, but it was expected to be in the thousands.
St. Adalbert Parish in Dayton was one of several faith communities that sustained damage during the late May storms. A post-tornado inspection determined the severe winds caused extensive damage to the church roof, raising it up off of the rafters and creating a safety hazard. Per insurance and building inspector requirements, liturgies at the church were suspended until further notice.
Amid the destruction at Queen of Martyrs Parish, a statue of the Blessed Mother remained unscathed. "We found her May crown across the parking lot," said Lou Ann Keel, president of the parish's SVdP Conference. "We believe the Lord had spoken when we saw Mary still standing. That gave us major hope, was a booster to our faith, and symbolizes our strength."
While repairs to the church were being made, parishioners were able to attend Mass at the neighboring Our Lady of Grace. Queen of Martyrs has since reopened and the SVdP conference is working with other parish groups and St. Vincent de Paul Dayton District Council to reach to reach out to those in need.
"We didn't get a lot of calls for assistance right away," Keel said. "People were just in shock over what happened. Now we're really seeing the effects: people who literally have to start over and need everything. We're also seeing the residual effects, including lost wages, since many businesses were flattened. Peoples' homes may be intact, but they're not getting a paycheck. Now we're bracing and planning for the long-term."
On June 14, Michael Vanderburgh, executive director of SVdP Dayton, was appointed chair of the Montgomery County Long-term Recovery Operations Committee. "We have a lot of work to do," he acknowledged. "We know the types of things that need to be done, but just don't know the volume yet."
An immediate need, he said, is to put together a plan for affordable housing on a temporary basis for the poorest who were displaced. "Even if they have a responsible landlord, the landlord won't be able to rebuild for a year or more. There are so many considerations on the housing front, not the least of which is zoning, and the actual expense for replacing the homes."
"What I'm really concerned about at this point is what we call compassion fatigue," Vanderburgh said. "Here, very soon, people will get tired of hearing about the needs. We need to be sure that there is a constant drumbeat about where the needs are, so peoples' needs get met. If we don't, we'll have a tendency to move on without them, and we don't want to lose their voice."
Donations toward the recovery effort can be made at
Catholic Social Services of the Miami Valley at https://cssmv.org/donate-now/
St. Vincent de Paul Dayton at https://stvincentdayton.org/how-to-donate/
Our Home Family Resource Center at https://www.ourhomefrc.com/donate/.