Tribunal Office director receives national award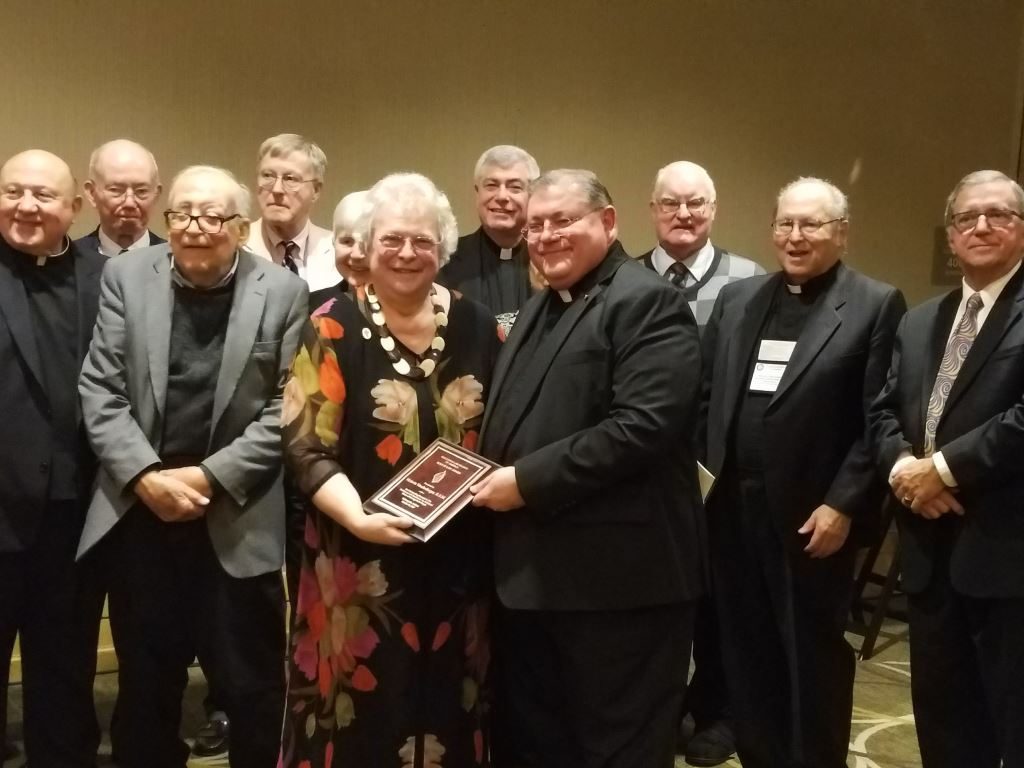 Sister of Mercy Victoria Vondenberger, director of the archdiocesan Tribunal Office was the recipient of the 2017 Role of Law Award at the annual convention of the Canon Law Society of America (CLSA), held Oct. 16-19 in Indianapolis.
Each year the CLSA presents the award to a member in the field of canon law. "The person honored with this award is respected by the members of the Canon Law Society of America as someone who embodies the purpose of the Society, a group of men and women of faith who minister justice and mercy in the church through its legal structures," explained Father Bruce Miller, CLSA president, at the convention banquet.
The award is giving to someone who "demonstrates the embodiment of a pastoral attitude, commitment to research and study, participation in the development of law, response to needs and practical assistance, facilitation of dialogue and the interchange of ideas within the Society and with other groups," he said.
Sister Victoria's experience and contributions in the field are numerous. She earned her canon law degree in 1990 at St. Paul University, Ottawa, Canada, and has since served as tribunal director, defender of the bond and promoter of justice for the Archdiocese of Cincinnati. She also serves for the Dioceses of Saginaw (defender of the bond) and Winona (was defender of the bond, now promoter of justice as needed).
Since 1990, she has been member of the CSLA, along with serving on the American Jurisprudence Committee, chairperson of the Marriage Research Sacramental Law committees, as press officer for the 2000 convention, CLSA hearing officer, a member of the Board of Governors, CLSA secretary, and currently on the Nominations Committee.
Sister Victoria authored "Catholics, Marriage and Divorce: Real People, Real Questions," and has published more than 50 articles and edited three books about canon law. She also has given more than 60 presentations about canon law locally, regionally, nationally, and internationally, plus offered a CLSA webinar.
She was part of the 2014 CLSA Task Force that submitted to the Holy See suggestions for changes in marriage procedural law, and a co-chair of the 2017 CLSA Task Force, which responded to questions from the Pontifical Commission for the Protection of Minors about Application of Canon law in Cases of Sexual Abuse of Minors or Vulnerable Adults.
In 2010, she began a cost-free consultation group to assist those with questions about religious law. In addition, Sister Victoria teaches canon law at the Athenaeum of Ohio-Mount St. Mary's Seminary of the West, and offers Tribunal Training through the Lay Pastoral Ministry Program at the seminary to prepare procurator/advocates to assist parishioners to present marriage cases. She also chairs the Review Board for the Franciscan Province of St. John the Baptist.
"It was an amazing experience to have so many canonists rejoice with me about the award, right after the banquet and the next day, as well as by phone, email and mail since I returned home," Sister Victoria said. "So many took the time to tell me how a particular presentation I gave, or something I published, or advice I offered when they contacted me helped in their ministries or their lives. I feel like I am finding my footing to stand among true giants in canon law."