Twenty Five Move Forward in Rite of Candidacy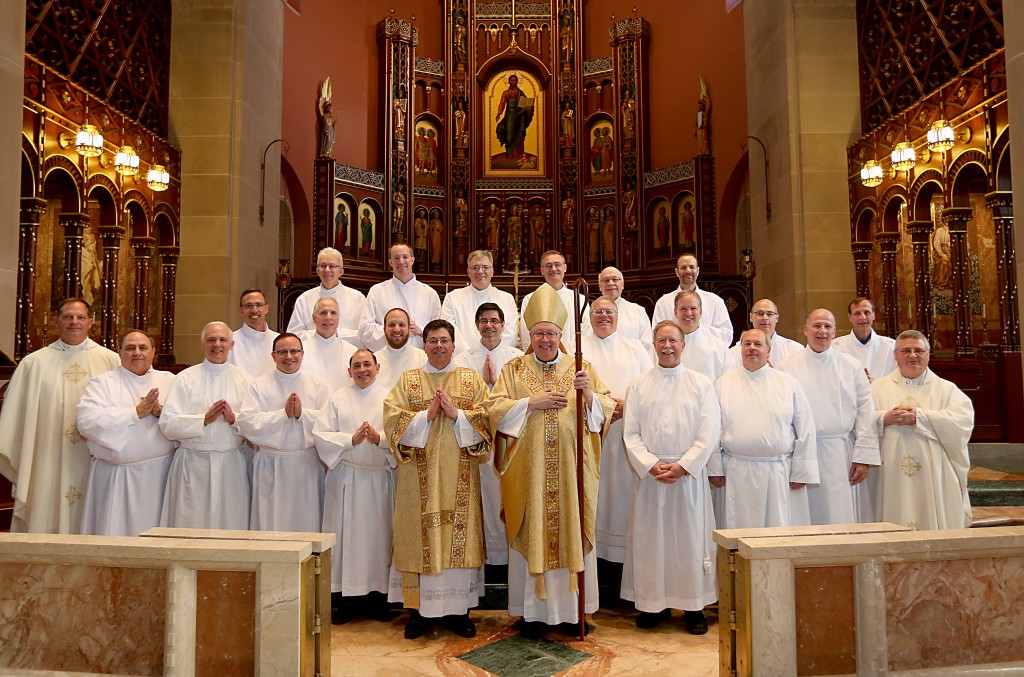 Athenauem of Ohio – On Sunday, November 20 Bishop Joseph Binzer celebrated Mass in the seminary's St. Gregory the Great Chapel and admitted 25 men as Candidates for the Order of Deacon: 21 for the Archdiocese of Cincinnati and 4 for the Diocese of Covington.
The Rite of Candidacy is the public act whereby those men, having completed the prerequisites, and believing themselves called by God to Holy Orders, petition the Church to be admitted to the course of study and formation that leads to ordination. The Church acknowledges their intention to receive the sacrament of Holy Orders and accepts them as candidates for possible ordination.
"This is another step along the path towards the permanent Diaconate for these men. They've certainly already done a great deal to get to this point in terms of discernment and study. But today they make a public statement of their intention to become permanent deacons. Now they commit themselves to being formed specifically for that service in the Church," said Father Anthony Brausch, the Director of The Permanent Deacon Formation Program.
Father Brausch also emphasized that the Rite often involves more than the candidate: "It's important to remember that if the man is married this Rite represents his wife's willingness that he be formed for the diaconate since her consent is required before he can become a candidate."
The Rite acknowledges that the Church is committed to helping the candidates discern whether they are called and forming them to fulfill that call in service to the Church.
The Permanent Deacon Formation Program consists of a three-year commitment to meet approximately every two weeks to study and pray. Before candidates are admitted to the formation program they must have completed the theological and ministerial requirements for obtaining the Certificate in Lay Ministry from the Athenaeum.
Permanent Deacons for the Archdiocese of Cincinnati
Nathan D. Beiersdorfer
Steven G. Broering
Peter J. Caccavari
Brian M. Caperton
Gregory P. Doud
Gregg N.Elking
Graham B. Galloway
Frank G. Ganschow
David W. Harcourt
Michael J. Huffman
Daniel W. Kahlig
Joseph M. Leep
Lawain McNeil
Michael W. Muse
James R. Niswonger
John W. O'Maley
Mark A. Patel
Charles W. Salway
James R.Strominger
Kenneth J. Wuebker
Paul C. Zlatic
Permanent Deacons for the Diocese of Covington
Brian R. Cox
James A. Fortner
Barry J. Henry
Joseph A. Wiedeman