Two men ordained priests for Archdiocese of Cincinnati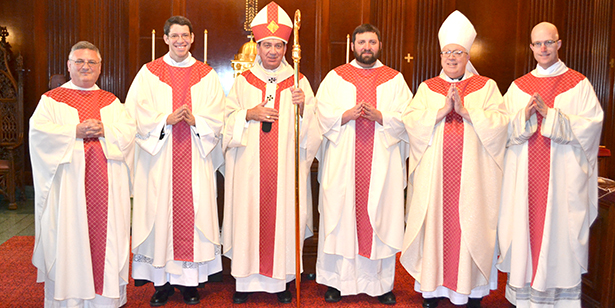 By John Stegeman
The Catholic Telegraph
Archbishop Dennis M. Schnurr ordained Father Brian William Phelps and Father James Joseph Riehle. to the priesthood before a packed cathedral May 17. Concelebrating in the sanctuary were Auxiliary Bishop Joseph R. Binzer, seminary rector Father Benedict O'Cinnsealaigh and the priest faculty of Mount Saint Mary's Seminary, among others.
The new priests received their assignments at the end of the Mass. Father Phelps was named Parochial Vicar of Incarnation parish in Centerville. Father Riehle was named Parochial Vicar of Holy Angels parish in Sidney.
A post-ordination tradition rarely seen by the congregation has the current class of seminarians waiting for the new priests just outside the sacristy. As Father Phelps and Father Riehle emerged, their classmates applauded before kneeling to receive blessings. A video of this moment can be seen below.
For the full story on this ordination, see the June print edition of The Catholic Telegraph. (Sign up by contacting [email protected])