U.S. Catholics from Miami to be 'ambassadors' to Havana during Cuba trip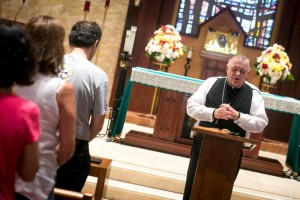 By Tom Tracy Catholic News Service
MIAMI — More than 180 South Florida Catholics planned to travel to Havana once again for a historic papal visit to Cuba.
The trip is the third Miami archdiocesan pilgrimage to Cuba for the three papal visits to the island nation, beginning with St. John Paul II, in 1998, followed by Pope Benedict XVI, in 2012, and now Pope Francis, who will be there Sept. 19-22.
Led by Miami Archbishop Thomas G. Wenski, the group was making a Sept. 18-21 pilgrimage from Miami to Havana in support of the pope's visit to Cuba before his three-city visit to the U.S., culminating in the World Meeting of Families in Philadelphia.
The Florida delegation of pilgrims to Cuba will include clergy, adults, families and young adults who will encounter Pope Francis during his events in Havana.
The Florida group was to join Archbishop Wenski for at least two private Masses in Havana churches and to join tens of thousands of Cubans attending the Sept. 20 Mass with Pope Francis in Havana's Plaza de la Revolucion.
For logistical reasons, the Florida group did not plan to travel to the pope's two other stops, Holguin and the region of Santiago de Cuba, home of the Shrine of Our Lady of Charity, Cuba's patroness.
As in previous years, pilgrims will enter a nation suffering economic stagnation and material shortages but also with expectations for new beginnings and an easing of U.S. travel restrictions to Cuba.
This year's papal visit to Cuba follows the Aug. 14 reopening of a U.S. embassy in Havana and the re-establishment of full diplomatic ties between the two countries. The Miami group includes some Cuban-Americans who have traveled to Cuba in recent years and others who will be returning there for the first time in decades.
"We do have a responsibility for the people of Cuba in terms of (encouraging) freedom of speech and religion and that is our job as Catholics, as ambassadors on this trip to demonstrate how the Holy Spirit is moving and working in us," said Deacon Ralph Gazitua, a member of St. John Neumann Parish in Miami who plans to bring his Cuban-American wife and their two adult sons on the Havana pilgrimage.
Deacon Gazitua, who is president of a free-trade-zone business in Miami and who has previously traveled to Cuba on business and was there for the 2012 papal visit, said he has personally observed greater religious participation at Sunday Masses in Havana. He also was on hand for the embassy flag-raising event in Cuba last month.
Pope Francis, he said, is a highly charismatic figure who will bring a sense of joy to Cubans amid their daily hardships. His visit will comprise a historic moment for Cubans and visitors alike.
"When you are amongst the people listening to the Holy Father it is a celebration, and for hundreds of thousands living in a depressed environment, the people will have that one moment that they will treasure the rest of their life," said Deacon Gazitua, who also is a chaplain for the Miami Dade Police Department and longtime prison ministry chaplain.
"This will be an incredible experience with my whole family there," Deacon Gazitua added, noting that his wife, Maria Elena, is an art historian with an ongoing interest in the art of her homeland. She has been to Cuba for art research projects but was unable to obtain a visa for the 2012 papal visit.
Cuba has permitted greater freedom of religion in the past decade, although many here are still critical of Cuba's record on human rights and freedom of speech.
Since St. John Paul II's 1998 visit especially, the church has steadily encouraged Cuba's gestures toward reform of the Soviet-style economy. The Vatican helped mediate renewed conversations between Cuba and the United States to foster what Archbishop Wenski has described as "soft landing" in Cuba's future transitions.
Thomas Abraham, a Miami civic leader and chairman of the Anthony R. Abraham Foundation, said he planned to travel with both the archdiocesan pilgrimage to Cuba and on the pilgrimage to Washington immediately following Havana.
It will be a first visit to Cuba for Abraham, who is the son of a prominent Lebanese-American Catholic businessman and Miami philanthropist, the late Anthony R. Abraham. The elder Abraham's car dealership business was for decades an anchor of the Little Havana business community in Miami and the family enjoyed close ties with Cuban Americans in both Miami and Tampa.
"From a historical point of view, I thought it would be a great opportunity to witness this great pope who is very approachable and has good relationships with people," he said of the Cuba pilgrimage, noting that increasing economic and commercial freedoms for Cubans will be good for the island as they were in the post-communist Soviet Union.
"It will be interesting to see this movement happening in Cuba, the spiritual environment the pope will bring to Cuba, and the (developing) relationship between Cuba and U.S.," he said.
Representing a younger delegation of Florida pilgrims to Havana will be Fort Lauderdale native Vickie Machado, a doctoral student at the University of Florida in Gainesville who will travel to Cuba with seven other young adults.
After making contact with a Catholic Cuban youth group, the Miami pilgrims will be on hand for Pope Francis' encounter with Cuban young people after the Sunday Mass in Havana Sept. 20.
"I am looking forward to it all. I just got the itinerary and it is gradually sinking in that I will be going," said Machado, who previously worked on environmental projects in Florida and who is impressed with Pope Francis' ecological encyclical, "Laudato Si'."
Machado also has been active in Pax Christi and the Catholic Worker House for the homeless in Gainesville.
The trip to Cuba, she said, will largely be her first time outside of the U.S. Her father had Cuban roots.
"Personally I think Pope Francis has given a freshness to Catholicism in a very positive way; the issues he is talking about are at the root of Christianity, and he is bringing them to light again, getting people to think again about important issues again so vital to the faith," Machado said. "I would think the Cubans will be really excited."