U.S. Rep. Davidson visits Badin; honors three seniors for tech success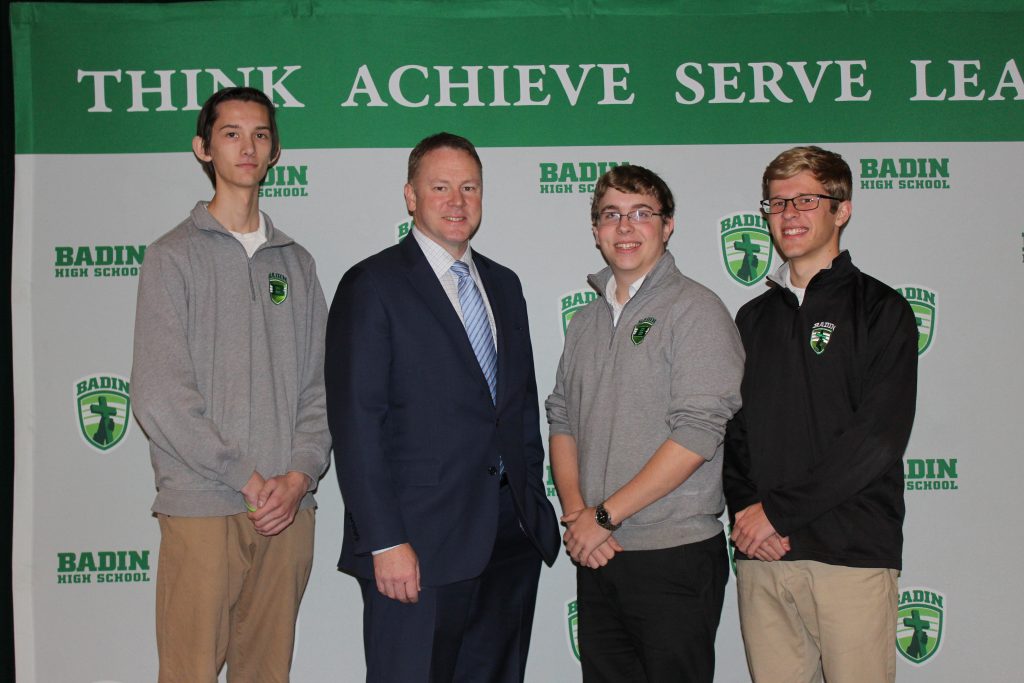 Three Badin High School seniors were recognized by U.S. Rep. Warren Davidson on Monday morning during a surprise technology assembly at the Catholic school in Hamilton.
Nick Eyl, Jon Moran and Jacob Waggoner were honored for having won an 8th Congressional District contest to create a useful iPhone app.
The Badin trio created a service app that gives users the chance to make a difference in their community through local service opportunities, through supporting local businesses, and also to get in direct contact with their local, state and federal elected government officials.
"We thought we had a great idea and we were trying to turn it into the best looking and most functional app that we could," Waggoner said.
Mr. David Gretz, who teaches the upper level technology classes at Badin, said he simply "gave them the contest information, told them they had the skills, and got out of their way. … They are very talented tech students and once again they have put their skills to good use. They take technology very seriously and it shows."
Davidson congratulated the young men on their success and told the assembly of Badin tech students in the Little Theatre, "Employers are looking for people with the skill set and aptitude to solve problems."
Noting his background in manufacturing, Davidson added, "The nature of manufacturing has changed over the years; the whole culture (of manufacturing) is changing. There are unfathomable opportunities out there for you."
According to Davidson, 190 members of Congress sponsored an app challenge and received some 4,000 applications from students. The Badin trio won the 8th District challenge from among 10 applicant groups representing 35 students.
Each of the three Badin students will receive $250 in Amazon Web Service credits. They will be invited to the annual #HouseOfCode reception in Washington, D.C., in the spring of 2018.
"This is a real honor," Moran said. "We put in a lot of time and it's nice to see our hard work pay off. I'm looking forward to going to Washington, D.C.!"
"We work together as a great team," Eyl said of the trio. "It's just awesome to get recognized like this. We put in a lot of hard work."
"We're extremely proud of these three young men," Badin Principal Brian Pendergest said, "and it was certainly an honor for Badin High School to have Representative Davidson come present the awards. When a United States congressman shows up in your building, you know something valuable is going on."
• Eyl is the son of Jeff and Karen Eyl of Fairfield and a graduate of Sacred Heart School.
• Moran is the son of Joe and Holly Moran of Hamilton and a graduate of St. Ann School.
• Waggoner is the son of Brad and Paula Waggoner of Hamilton and a graduate of St. Joseph School.
The app is entitled ImpACT and will be on display at the U.S. Capitol building in Washington as well as on U.S. Rep. Davidson's web site, Davidson.house.gov.